BrandwizzDiaries – The Monthly (December '22) Roundup Of All Things Tech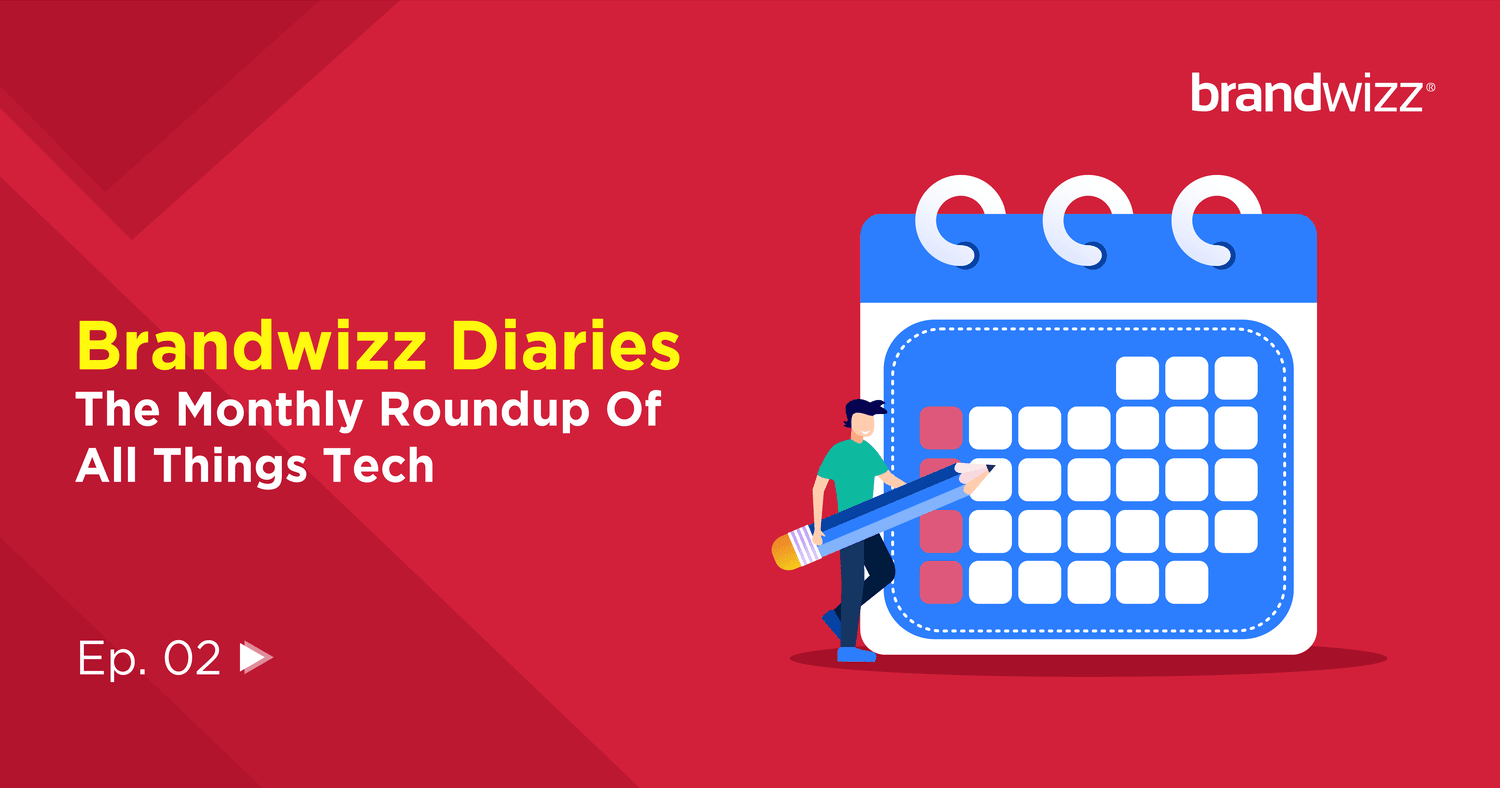 The holiday season is here. As we all prepare to usher in the new year with aplomb, Brandwizz Diaries is back again – with a recap of all the digital updates that mattered in December. Your info bank is ready, and it's time to dive in.
New Format For View Counts Of Tweets Being Tested

While the new 'tweet view counts' is a nice enough feature, question marks have remained over the manner in which this stat is displayed (the double-line view has not found much favour among people). To make things better, a new format to display tweet view counts is already being tested. In this format, a tweet has to be expanded, to check the view count.
Takeaway: By showing the view count of individual tweets, Twitter is looking to boost both engagement levels as well as new content creation on the platform.
Holidays Are Here; So Are

With the onset of the Santa season, Snapchat has brought in some interesting elements. Prominent among them is the customisation option for Camera buttons (for S+ users) – while the availability of adding custom backgrounds to chats also warrants a special mention. There is now an option to gift S+ subscription to friends.
Takeaway: The new changes do amp up the charm of Snapchat+ as a personalised tool – although there are uncertainties over the percentage of users who will actually pay to access these features.
Tweet Responses To Become More Customised With Emoji Reactions

In the 'Twitter 2.0' bandwagon under the watch of Elon Musk, changes are afoot. Among them, the option to react to tweets with something else other than the 'heart' seems handy. Given the fact that Twitter DMs already have reaction options (6) – it is only natural that the same feature should be available for individual tweets.
Takeaway: While this feature has already been delayed several times, it will be a welcome addition – particularly since the 'heart' reaction is not appropriate under all circumstances.
A New Way To Create Reels On The Facebook App

If you don't have your own videos to use in Reels, Facebook will soon have you covered. As part of Meta's continuous efforts to encourage short-form video-sharing, the 'verse' has introduced features that ease reel-creation on the FB app, as well as highlight those clips on the news feed. The need to record video has also been dispensed with (although that certainly will remain the first-choice amongst users).
Takeaway: Use of Reels is rising exponentially, and Meta has taken a leaf out of Tiktok's book to gain more traction and retain users with new & engaging content.
More Insights From Tiktok Regarding Video Display In Feed

To eliminate uncertainties and probable confusion, TikTok has planned to 'explain' why users see certain videos on their 'For You' feed. This update is in the form of a dedicated 'Why this video?' tab below the social sharing buttons. Tapping this tab would throw up probable reasons behind the concerned video being displayed in the user's feed.
Takeaway: This 'explainer' feature is a useful addition, since it delivers some insights on how the TikTok algorithm functions, and the logic behind the video-content sharing on personal feeds.
Investments On Metaverse Set To Soar In 2023

The initial backlash to the proposed 'Metaverse' notwithstanding, investment on development will continue to grow next year. In particular, VR investments will remain steady – with plenty of effort, time and hefty finances being allocated towards fine-tuning the metaverse as a whole. The bottomline is simple: Meta is set to become a truly innovative global industry.
Takeaway: Instead of sticking to the 'safe' and conservative option, Meta is committed towards long-term thinking – an approach that should yield rewards as economic conditions take an upturn.
Accessing Locked Instagram Accounts Becomes Easy For Users

The all-new Instagram 'recovery centre' has been introduced to help people who are locked out from their IG accounts. By going to instagram.com/hacked, these users can learn about how they can log back into their accounts in a secure manner. For multiple account-owners, there is the option to select the account for which assistance is required.
Takeaway: Given the frustrations that, understandably, ensue from getting locked out of one's own profile, this is a helpful update indeed. Access to friend confirmation (for identity verification) has also been expanded.
More Emoji Reactions In YouTube Live Streams

Following stickers in YouTube live streams, more options to react to live streams on the video-sharing platform have been announced. The update is currently at an experimental phase, with select users being able to see up to 5 emoji reactions. These reactions are a lot like those included in the 'Timed Reactions' feature launched last year.
Takeaway: These additional reactions in Live are going to help viewers express their interest in a more custom manner – thereby pulling up engagement and response metrics.
Candid Arrives On Instagram, Along With Other Engagement Elements

In its bid to encourage users to share personal app interactions and build engagement, Meta has come up with a series of new elements. 'Candid Stories', which is conceived on the lines of BeReal, is under testing – while people will also find a 'Leave a note' feature just above inbox messages. The IG group chat functionality is also getting an update.
Takeaway: Along with the 'Add Yours' sticker in IG stories, these new features would ensure that engagements are not limited to post feeds. In particular, reach and exposure through DM are being facilitated.
'Reddit Recap' Activation Launched By The Social Bookmarking Platform

To help redditors catch a snapshot of their activities on Reddit, the platform has come up with the Reddit Recap activation for 2022. Users will also be shown subreddits and communities that they might be interested in. On the basis of the Reddit app usage, people will receive a 'Reddit superpower rating.'
Takeaway: Reddit has bounced back well after the downs of 2020 – and going forward, the overall user-experience on the platform is expected to be even more immersive. For users, there will be more 'digital collectibles' on view.
Account Status Updates From Instagram With Shadowban Insights

IG users can now get a clear idea on whether their content is suitable for recommendation, or if there are issues to be addressed. The new feature adds an extra layer of transparency (right from the Account Status dashboard). Alerts will be displayed if any post breaches the existing rules and policies of the Instagram platform.
Takeaway: Shadowbans have been, for a fairly long time, been a mystery for users. The 'recommendation eligibility insights' will go a long way in users being able to optimise their Instagram journeys.
Editing Tools For Shorts, Chat Emotes, Automated Audio Dubbing Launched On YouTube

For content-creators of YT shorts, the new series of YouTube updates is particularly important. The option to select clips to be used as Shorts thumbnails is a useful one (without the upload flow getting interrupted in any way). YouTube audio content can be automatically dubbed in other languages (the process is named 'Aloud'), while the new 'YouTube Emotes' is expected to make chat stream management easier.
Takeaway: Once again, all of these changes have been brought in with an eye on streamlining user-experiences on the platform – while boosting the overall functionality, and even serving as subscription incentives.
With this, it's time we wrap up the second edition of BrandwizzDiaries. Stay tuned for more fascinating digital highlights for the month of January. Don't forget to let us know which digital update fascinated you the most in 2022.
Till the next time, love thy digital!

Amit is a Digital nomad at Brandwizz. An avid learner who believes in the magic of Words and Music. Eternal Optimist. Book Lover. Cinephile. Creative Soul, Down to Earth human. Connect to Know more!!

Starting a New Project, or
Want to Collaborate with Us?
Starting a New Project, or Want to Collaborate with Us?
Starting a New Project, or Want to Collaborate with Us?