BrandwizzDiaries – The Monthly (March '23) Roundup of All Things Tech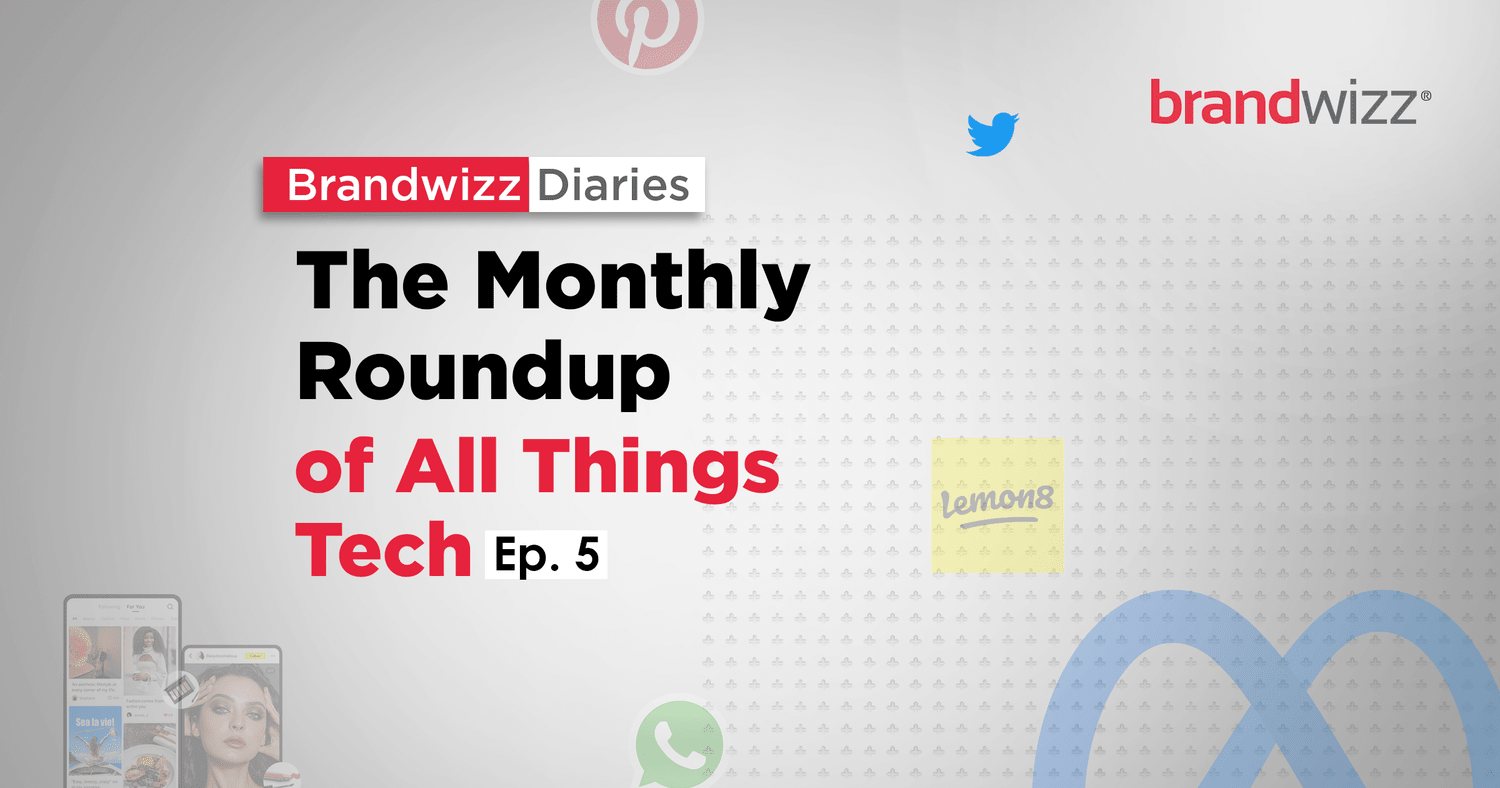 Time flies, there are absolutely no two ways about it. It seems only yesterday that we were framing our new year resolutions – and bam! the first quarter of 2023 is already done and dusted. For Brandwizz and Brandwizzards, this has been a prolific few months – with major onboardings, talent acquisitions, celebrations & more. And now, we are all set with the latest edition of #BrandwizzDiaries. Let's take a look back at the digital world news & updates that made a splash in March:
All-new API Access Tiers Revealed by Twitter

The API access program of Twitter is getting a major upgrade, with new API access price plans being announced. Unlike the previous system (where the focus was overwhelmingly on allowing free API access), there will now be three different access tiers – FREE, BASIC, and ENTERPRISE.
Takeaway: With API access for researchers and developers becoming significantly more limited, there are chances of several third-party applications and tools being affected, or even getting forced off the market.
Meta's Latest Ad Placement Controls To Boost Digital Safety 

In its bid to ensure brand safety in the digital space, Meta has come up with three new safety levels for ad placement: LIMITED INVENTORY, MODERATE INVENTORY and EXPANDED INVENTORY. The new settings & controls will help brands stay away from getting unnecessarily associated with irrelevant and/or inappropriate content.
Takeaway: Thanks to AI-powered systems and advanced content classifiers, the new Meta ad controls will go a long way to help brands feel 'more at ease' about how advertisements are being placed.
Special Birthday Profile Effects of Instagram are Under Testing

In the Metaverse, the declining popularity of Facebook among the younger crowd is being offset by Instagram. A new birthday effect – which is set to be visible for a single day – is currently being tested by IG. Just like FB reminders, this new visual effects feature will help people make their b'day celebrations a tad more special on the digital space.
Takeaway: The Birthday Profile Effect is expected to build user-engagement levels on Instagram, with the latter also getting an opportunity to bring its visual effects capabilities under the spotlight.
Popularity of 'Lemon8' Product Showcase Application is Soaring
ByteDance – the owner of Tiktok – is ramping up its game in the US markets, with its Lemon8 application. The app, often referred to as a crossover between Pinterest and Instagram, allows Gen-Z users to share engaging content from a wide range of product categories. In March, Lemon8 broke into the top-10 downloads chart in the US app store.
Takeaway: For an app that once had very little recognition, these are heady times for Lemon8, with young content-creators clearly loving the platform for its diversity.
Google Announces New Ads Transparency Center

To assist marketers get more in-depth insights on ads and campaign details, Google has come up with an all-new 'Ads Transparency Center'. Over here, ad listings can be filtered on the basis of different parameters, ads can be searched easily, and unsuitable ads can be reported / blocked.
Takeaway: While not quite at par with the Ad Library of Facebook yet, the new Ads Transparency Center has the potential to be a powerful tool for marketers, to analyse competitor ad strategies.
All Image Instances Will Be Taggable In A New Way On Twitter

At a time when the digital space is literally getting flooded with AI images, Twitter has come up with a potentially effective way to counter this problem. With the new image tagging feature (which is added to the Community Notes of Twitter), users can easily attach tags or notes to the images they share. These tags will then get automatically applied to all versions of those images on the microblogging platform.
Takeaway: 'Twitter 2.0' is indeed growing fast, and the new image-tagging element should be instrumental in preventing the spread of potentially damaging misinformation, and managing content moderation requirements.
Branded AR Campaigns To Be Facilitated by Tiktok

The 'Effects House AR Creation' feature of Tiktok is set to have a new element – designed to help companies create digital marketing campaigns that are more intuitive and engaging. The element, named 'Branded Effects', has been created as a collaboration tool, and has multiple features – from viewer targeting to personalised CTA options, & a lot more.
Takeaway: On Snapchat, nearly 74% users interact with AR elements on a daily basis. Tiktok has taken this cue, and is looking to use the technology to pull up engagement.
Advanced Ad Tools Being Tested By Meta

At ShopTalk 2023, Meta revealed two ad types, which have been created to help digital retail marketers to optimise the performance of their ad campaigns. The ad types – Managed Partner Ads and Local Inventory Ads, will enable campaigns to be more focused, while businesses will also be able to utilise their CRM data in a more actionable manner.
Takeaway: The new ad tools can be viewed as Meta's response to the recent data tracking restrictions – so that marketers can ensure better audience targeting and generate improved campaign performance.
New Display Options Arrive On Pinterest
Over the last 12 months or so, there has been a massive surge in digital catalog integration and shopping feeds on Pinterest. To capitalise on this, the platform is expanding the 'Premiere Spotlight' advertisements to more users. The option of creating collages of product images – through the 'Shuffles' application – is also being provided. As a whole, Pinterest is becoming more 'shoppable'.
Takeaway: In terms of both reach and display, these new features are likely to drive serious benefits for retailers looking for more product exposure.
Snapchat Shares Posting Guidelines To Maximise Platform Presence

To take their organic presence to the next level, Snapchat has started sharing important posting tips & ideas to members of the 'Snap Stars' program. By following these guidelines, users can make their clips and images more effective and engaging.
Takeaway: While many of these 'best practices' are relatively straightforward, maintaining post consistency remains the #1 consideration. There are question marks over the 'right' number of Snaps that should go out daily.
Podcast Analytics Added By YouTube

In an exciting new development, YouTube has started allowing content creators to directly create new podcasts in the YouTube Studio. New options for video downloads have also been added. For each podcast, detailed analytics (viewer insights, audience demographics, aggregate metrics, revenue details, etc.) will be available. 
Takeaway: While video-sharing remains the core service of YouTube, the platform is investing significantly on 'only-audio' content as well – with many prominent YouTubers also having their own podcasts. 
WhatsApp For Windows Gets An Update

More conducive for video meetings. A better interface for group chats. Better multi-device syncing. Meta's refreshed version of WhatsApp For Windows has a lot of things going for it. Stickers and link previews will also be supported on the desktop app. A new Mac version is also in the beta stage.
Takeaway: While video interactions will definitely become better in the new WhatsApp For Windows, there's still a long way to go, to match the virtual meeting preview on the Metaverse that was shared more than a year ago.
Just like 2023 Q1, this also brings us to the end of this edition of #BrandwizzDiaries. Here's to many more exciting news and updates from the world of digital in the second quarter of the year. Meanwhile, do let us know which digital update / trend really stood out for you in the quarter we have just completed.
Till the next time, love thy digital!
Continue Reading : BrandwizzDiaries – The Monthly (February '23) Roundup Of All Things Tech

Amit is a Digital nomad at Brandwizz. An avid learner who believes in the magic of Words and Music. Eternal Optimist. Book Lover. Cinephile. Creative Soul, Down to Earth human. Connect to Know more!!
Starting a New Project, or
Want to Collaborate with Us?
Starting a New Project, or Want to Collaborate with Us?
Starting a New Project, or Want to Collaborate with Us?