BrandwizzDiaries – The Monthly (February '23) Roundup Of All Things Tech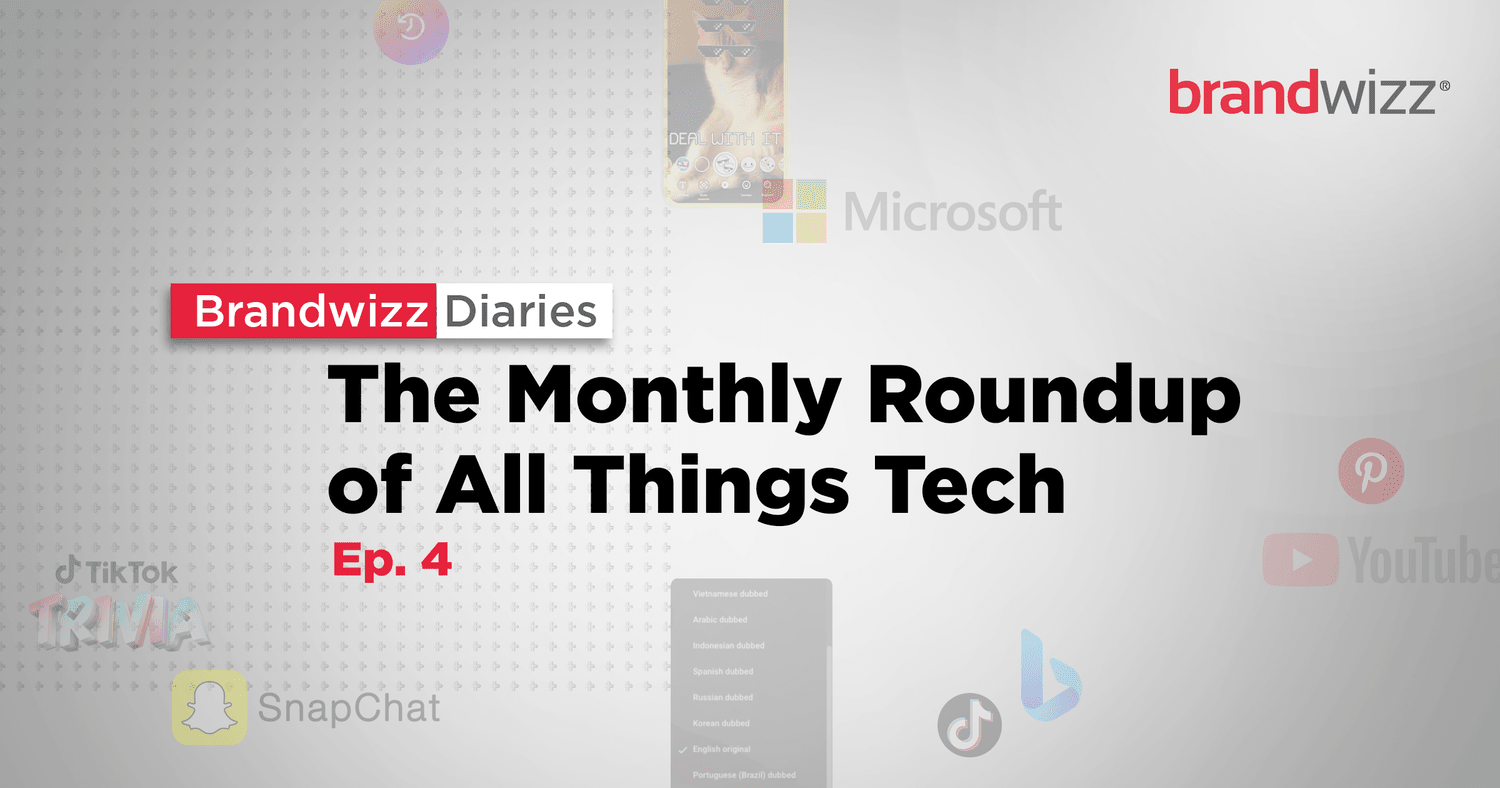 In Wales, February is known as the 'little month' ('y mis bach', in local lingo). 
No wonder that we are already nearing the end of Feb – and with that, it's time for another all-new edition of BrandwizzDiaries. In this monthly round up, we put the spotlight on the biggest news & updates from the world of digital – things that have really made a splash. Without further ado, let's dive straight in:

In its bid to give dropping engagement levels a lift, Instagram is repackaging its existing archive functionality – in the form of a 'Memory' Story prompt. By tapping on this story, people can view all the stories they had shared on that particular date.
Takeaway: While there is no data to establish this, the new 'Memory' story feature could be yet another attempt by IG to arrest declining user-engagements. The feature – currently under testing – is similar to the 'On this day' Facebook feature.

As part of a logical progression towards bolstering in-app user interactions, Tiktok has announced a new Live-Stream event – the Tiktok Trivia – from 22 to 26 Feb (in collaboration with Lionsgate Films). The platform is set to partner with content creators from different communities during the Trivia sessions, which will also give users the chance to win attractive cash prizes.
Takeaway: Tiktok has surely taken a cue from the huge success of the HQ Trivia event – with the new Live Stream Trivia also expected to garner a lot of attention.

The Snapchat Lens Studio is getting a serious augmented reality (AR) upgrade. The platform has added 'ray tracing' in its AR activations – to make the user-experiences more immersive than ever before. Since 'ray tracing' makes AR-effects more realistic, things become a lot more engaging too.
Takeaway: The 'ray tracing' upgrade has the potential to make product showcases on the platform more realistic too, by leveraging the power of AR in the best possible manner.

For the first-time ever, Pinterest has come up with its very own ESG (Environmental, Social, and Governance) Impact Report – shedding light on how the platform focuses on key parameters like product safety, in-house governance, diversity & inclusion in workplace, ecological impacts, and others. The manner in which Pinterest plans to create a 'positive corner of the internet' is also mentioned in the report.
Takeaway: The fact that Pinterest is prioritising these factors is laudable indeed – and the report would also provide pointers to other companies regarding the main areas to emphasise on.

A series of new metrics for YouTube Shorts (including stats on 'Shown in feed') is being added in the Studio display area. The update also includes demographic information, while the live chat moderator role has also been updated. YT Music will soon be open to global creators too.
Takeaway: With the popularity of Shorts surging, YouTube is pulling out all the stops to deliver detailed insights to users, so that the latter can improve their content-sharing strategies.

…'flower bouquets', so no surprises here (as per Google data around the V-day period). Search queries for heart-shaped food items jumped by over 300% too, while there were queries – rather sadly – on 'when to break up'. The report has thrown up interesting insights on how people like to engage with each other, and search for stuff online, on and around the day of love.
Takeaway: For brands, this report opens up opportunities on how local trends can be incorporated in their marketing plans on the days leading up to Valentine's Day.

In order to increase overall in-app audience potential in the YouTube app, the video-sharing platform has started testing multi-language audio tracks. With this feature, creators will be able to include audio clips in different languages in their videos. At present, the multi-language audio track is being tested among a select set of creators.
Takeaway: Given the fact that 67% of YT video audiences hail from 'foreign' countries, the multi-language audio track will help creators ensure significantly greater reach for their videos.

With ChatGPT being firmly in the news, Microsoft is pushing out powerful chat elements – powered by artificial intelligence (AI) – to the latest versions of Skype, Bing Mobile and the Microsoft Edge browser. In particular, the seamless AI-integration is expected to add a fresh lease of life to the Bing search engine. As per early reports, over 70% testers have expressed their appreciation for the new version of Bing. 
Takeaway: Interest in ChatGPT in particular, and AI capabilities in general, is at an all-time high – and Microsoft is taking advantage of this, even though concerns remain over the quality of information shared.

The Snapchat 2023 Investor Day was on February 16 – and it was announced that the platform has breached the mark of 750 million monthly active users (a 25% YoY jump). The daily user count of Snapchat has also witnessed close to 2X increase over the same period of time.
Takeaway: With Snapchat planning to develop AR tools & functionalities and app-based shopping options, the platform's footprint is set to grow further in the foreseeable future.

For greater transparency about Reel content creators – particularly regarding their locations – Instagram is testing a new update. With this, the profile's location will be listed on the video, thereby avoiding miscommunication risks. The update is extremely subtle and non-intrusive, and makes the clips more contextual.
Takeaway: The location listings on Reels is the latest in the line of Instagram's initiatives to control the spread of misinformation and ensure 'proactive detection.'

The Tiktok Creative Centre has a series of new insights, indicating the popularity of products listed in the application – in terms of impressions, CTR, likes & comments, and other metrics. There is a new 'Top Products' section as well, and it can be filtered according to date, region, or category.
Takeaway: For brands that are into marketing their products through Tiktok, this is a hugely important update. In addition, the new insights should also help in framing more optimised Tiktok ad campaigns.

While it is still at an early testing phase, the new 'Bing chatbot experience' by Microsoft is ready to get a major upgrade. While the AI-powered search responses will include paid links in the new update, the chatbot ads will also be more prominent than ordinary search advertisements.
Takeaway: The new chatbot experience will open up a horizon of opportunities for Microsoft, although there are some points of concern over probable brand safety risks (due to AI-related uncertainties).
Like all good things in life, this edition of Brandwizz Diaries also draws to a close with this. We will be back again next month, with the Spring edition of our monthly roundup. Do let us know how you are finding this series, what other digital highlights you want us to feature, and which of this month's updates you found most interesting. We'll be waiting to hear from you.
Till the next time, love thy digital!

Amit is a Digital nomad at Brandwizz. An avid learner who believes in the magic of Words and Music. Eternal Optimist. Book Lover. Cinephile. Creative Soul, Down to Earth human. Connect to Know more!!
Starting a New Project, or
Want to Collaborate with Us?
Starting a New Project, or Want to Collaborate with Us?
Starting a New Project, or Want to Collaborate with Us?