BrandwizzDiaries – The Monthly (November '22) Roundup Of All Things Tech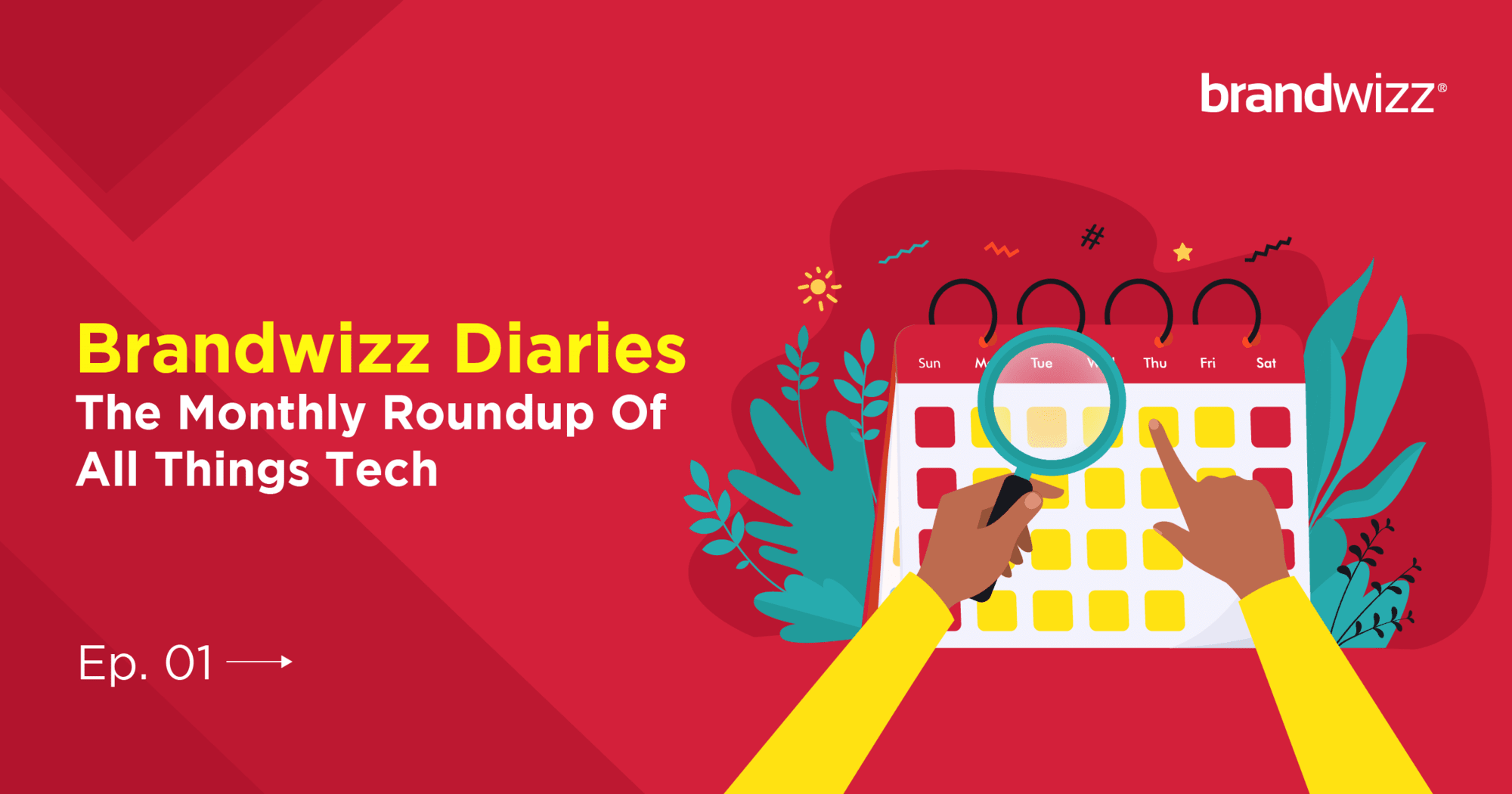 This is not a blog.

You won't get any in-depth insights on a single topic over here.

Dang it, this is not a 'how-to' guide or a FAQ or a checklist either.

So, why should you read on?

…well, because you do want to stay updated with all the hot n' happening news from the world of digital, right?
Hello and welcome to the very first edition of BrandwizzDiaries. Starting this month, we will bring to you a wrap-up of all the important news, views, insights and updates from the virtual world, from the last 30 days. This is your one-stop info bank!
Google Will Soon Get Rid Of Similar Audience Segments
This is a significant development for online advertisers. Similar audience segments will no longer be generated from May next year. Such already existing segments will not be integrated with Display & Video 360 and Google Ads either. From ad campaigns as well as ad groups, all similar audience segments will be removed by August 2023.
Takeaway → Google is paving the way for advertisers to reach out to a more 'relevant' audience – without privacy parameters being compromised in any way.
YouTube Is Set For An Expanded Rollout Of Livestream Guests
"Go Live Together" – the much talked-about co-live streaming feature of YouTube – is about to get an upgrade. The feature will soon become available to select additional content creators, enabling them to co-stream on their mobile devices. The selected video-creators will find a "Go Live Together" button in their YT accounts.
Takeaway → With this update, YouTube is joining platforms like Twitch (Guest Star) and Tiktok (Multi-Guest) for livestreaming together.
Communities Launched By WhatsApp To Maximise Topic-Based Discovery and Engagement
Following the upgrades in WhatsApp group chat in April, a new 'Communities' update was announced in the first week of November. With this new feature, people will be able to connect different (inter-related) group chats and initiate more effective group conversations. This, in turn, is expected to make communications over relatively broad topics easier.
Takeaway → WhatsApp Communities is expected to be a very useful connectivity tool, as well as a medium of discovery. Brands will also get fruitful community-building opportunities.
Google Business Profile Photo Insights Will Be Discontinued
As confirmed by Joy Hawkins, Google Business Profile Photo Analytics will not be present in the new search performance dashboard. However, several important business profile insights – right from number of calls and bookings, to profile views, messages & more – will remain accessible to existing users of Google Business Profile. Only Photo Insights will no longer be there.
Takeaway → This Google move is an extension of the search engine giant's constant endeavour to deliver the most relevant insights on business performance to online merchants.
Instagram Rolling Out Its New In-App Post Scheduling Feature
After a few weeks of testing, Instagram has now announced the rollout of its in-app scheduling feature – for image posts, reels and carousels. Such scheduling will be possible up to 75 days in advance. While this update is not a significant change from the post scheduling feature through Creator Studio – the option of Reels-scheduling would facilitate content performance maximisation. The update will be, at least for now, available only on Professional IG profiles.
Takeaway → For businesses as well as indie content creators, the scheduled posts feature on Instagram will definitely make life a lot easier.
YouTube Expands Comment Translations and Smart Replies Feature
Following the widespread popularity of its comment translation feature (in 100+ languages), YouTube has started implementing it in Studio Mobile too. This is expected to build engagements – particularly with non-English comments. In order to help people with comment suggestions when they are responding to other viewers during a stream, the 'Smart Replies' feature is also being expanded.
Takeaway → The latest updates are geared to make engagements in YouTube faster and better. Playlists will also be moved inside the 'Content' tab.
Google Set To Add Ad Frequency Capping Options For YouTube Campaigns
This Google update is all about helping marketers customise their YouTube ad strategies to ensure greater reach and better display frequency. More options for frequency control will be added to existing YouTube campaigns. To add to the convenience factor further, advertisers will get the option to choose weekly ad frequency goals as well.
Takeaway → Repeated brand exposure can help in brand-building in a big way. The new update ensures this is possible – without things becoming too repetitive.
LinkedIn Has Launched New Code Training Integration With GitHub
In the second week of November, an educational collaboration between LinkedIn and GitHub was announced. With this, developers will get plenty of opportunities to build their coding proficiency – thanks to the 'real' practices. More than 50 LinkedIn Learning courses will have the all-new GitHub Codespaces, delivering 'real-world environments' to developers.
Takeaway → With LinkedIn Learning becoming increasingly popular (>27 million users), this new update will help coders develop their coding skills in a 'workplace environment'.
Google Launches New Shoppable Music Video, Featuring Ludacris
The search engine giant has well and truly taken up influencer marketing campaigns to the next level. In a smart bid to promote Black-owned Friday, Google has collaborated with Grammy Award-winning rapper Ludacris, to come up with a music video that features 100+ shoppable products (presented by more than 60 black-owned businesses). There is an interactive version of the music video as well.
Takeaway → The update gives further momentum to the trend of using clips of popular video content creators to display products, and offering direct purchase options. The 'live-stream commerce revolution' is coming.
Meta Shares Tips For Marketers To New 'Social Skills' Video Series
For the upcoming holiday season, marketers need to have their social strategies in place. To help marketers, Meta has come up with new episodes of the 'Social Skills' video interview series. From understanding audience analytics and community-building, to maximising brand impact and performing A/B tests – the new series offers useful tips for optimising Instagram and Facebook marketing strategies.
Takeaway → The new set of tips are set to make social media marketing for businesses more focused and effective.
New Audience Insights Tool Launched By Tiktok
This update is likely to be of immense help to Tiktok advertisers. The dedicated Ads Manager will now have an 'Audience Insights' section – to enable users to dig deep into all key audience metrics, right from buyer behaviour & interests, to gender, age, and other relevant details. There will be options to filter buyers according to creator profiles, videos watched and hashtags.
Takeaway → The availability of Audience Insights on Tiktok will enable advertisers to scale systematically and target buyer-interests more effectively.
LinkedIn Launches New 'Brand Safety Hub' To Manage Audience Network Placements
When it comes to placement of online ads, 'brand safety' is often a point of concern. With the new 'brand safety hub' from LinkedIn, marketers now have the chance to manage all partner platforms of LI optimally (by allowing/blocking lists), and getting full information about them. Prioritising the publishers that comply with the requisite brand safety parameters also becomes possible.
Takeaway → The brand safety hub offers greater control for advertisers, regarding the LI promotions displayed (outside the app).
Google Panda Evolves Into The Coati Algorithm
Announced a decade back, the Google Panda algorithm has evolved continuously. Google Search VP, Hyung-Jin Kim, has confirmed that the earlier algorithm has now evolved into a broader core ranking algorithm, named Coati. As things stand, Google Coati and Panda will be integral in the core ranking algorithm of the search engine.
Takeaway → Google, by its own admission, is on a constant mission to deliver the best search experience to users. While not particularly important for content creators or SEO experts, the 'Panda-to-Coati' evolution is of interest to all Google enthusiasts.
This wraps up the inaugural edition of BrandwizzDiaries. We will be back with more intriguing stories and digital highlights next month. Meanwhile, do let us know what you felt about the grand debut of our monthly round-up.
Till the next time, love thy digital!

Amit is a Digital nomad at Brandwizz. An avid learner who believes in the magic of Words and Music. Eternal Optimist. Book Lover. Cinephile. Creative Soul, Down to Earth human. Connect to Know more!!
Starting a New Project, or
Want to Collaborate with Us?
Starting a New Project, or Want to Collaborate with Us?
Starting a New Project, or Want to Collaborate with Us?