BrandwizzDiaries – The Monthly (January '23) Roundup Of All Things Tech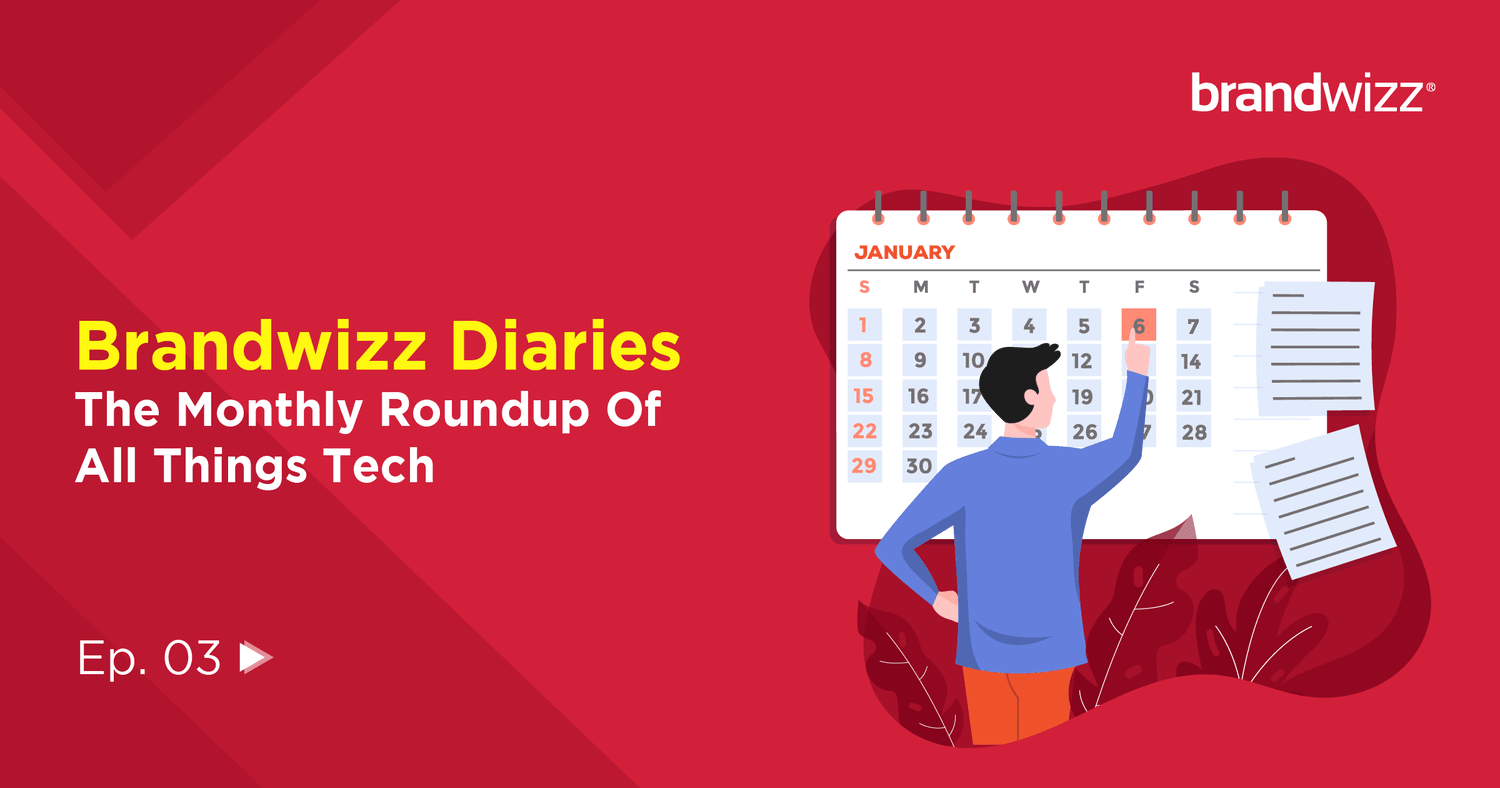 Another month is drawing to a close, and Brandwizz Diaries is back again with the hottest digital updates of January. There were plenty of news & highlights from this sector over the past few weeks, and here's the most important of them:
Google Ramps Up Efforts To Protect Social Apps From Chinese Influence

The search engine giant has come up with a fresh overview of its dedicated campaign to counter the attempts of a China-group to create an influence over the global audience (these attempts have been nicknamed DRAGONBRIDGE). This Chinese initiative is immense in scale, and has impacted YouTube, AdSense and Blogger activities – necessitating prompt actions to counter it.
Takeaway: Google's efforts are focussed on disrupting the influence of DRAGONBRIDGE by removing its content as quickly as possible.
Lead Forms Added On Instagram Business Profiles

With the arrival of lead forms as CTA buttons (i.e., an action button) in the profile section of IG business profiles, businesses now have more options to receive responses directly on the platform. By tracking the queries coming in through the platform, businesses can segment their audiences better, build up engagement levels, and drive their overall brand exposure.
Takeaway: The lead form CTA on Instagram profile will help businesses filter interests/queries from people and frame follow-up marketing plans.
The Site With The Most Traffic On The World Wide Web Is…Google

As confirmed by the latest reports from Visual Capitalist, Google has retained its position as the website with the highest number of online visitors. On the social media front, Facebook continues to take the top spot. YouTube – a 'partial social' video platform – has marked the highest 'duration-per-visit' figure (~20 minutes).
Takeaway: While the >85 billion visitor count of Google undoubtedly underlines its popularity, applications that primarily focus on in-app experiences (e.g., Snapchat, Tiktok) have not registered high figures in this report.
In-App Engagement On LinkedIn Continues To Grow Exponentially

The LinkedIn platform currently has well over 900 million active members – and interestingly, over 80% of these users are from outside the US. User sessions have also shot up by a whopping 18% (as per Microsoft data) last quarter, indicating robust in-app engagement levels.
Takeaway: LinkedIn has become the go-to platform for professional conversations (specifically after the mixed reactions to Twitter 2.0) – with a 22% growth in feed updates last year.
Twitter's Community Notes Feature Rolls Out To More Geographies

In its bid to emphasise its 'trust-as-a-service' philosophy, Twitter has announced that its Community Notes feature will now be available for contributors from Australia, United Kingdom, New Zealand and Ireland. As CEO Elon Musk has confirmed, this feature is likely to be instrumental in establishing Twitter as an authentic information source worldwide.
Takeaway: With the gradual expansion of Community Notes on Twitter, valuable local knowledge and insights are expected to come in – pulling up the overall 'value' of the platform.
'Curious' Reaction Removed From LinkedIn Posts

Was it the lack of usage? Were the reaction options becoming too many? We'll never know for sure – but the 'Curious' emoji has definitely disappeared from the list of reactions on LinkedIn posts. While this is not a big update per se (and it might even be a glitch), the number of post reactions on LI is now back to six.
Takeaway: It will be interesting to note whether the 'Curious' reaction makes a comeback on LinkedIn, and if any other reaction emoji becomes available in future updates.
GAS – An Anonymous Teen Connection App – Acquired By Discord

With a daily active user count of well in excess of 1 million, GAS has been – over the last few months – one of the top social apps for teenagers / the young user community. Discord has recently acquired the app, with a view to expand its scope to newer elements and areas (beyond gaming).
Takeaway: As the popularity of SNAP as the 'youth app' continues to decline, there is every chance of GAS – with the backing of Discord – taking its place.
Search Functionality Of Twitter To Be Updated To Detect Typos

Twitter search feature has been a rather frustrating experience for many – with people having to correct every mistypes and mistakes in that tiny little field. With the Advanced Search filters (which will soon be added on the mobile app as well), such spelling mistakes will be automatically deleted, and the overall search experience would be enhanced.
Takeaway: Elon Musk and his team are certainly aware of the different elements that contribute to the overall user experience (UX) of Twitter. The latest update bears testimony to this.
'Quiet Mode' Arrives On Instagram

The all-new 'Quiet Mode' on IG is going to help users take some breaks from the platform. The feature will add a notifier, and an auto-responder for Direct Messages – while all notifications will be turned off. The duration of the 'Quiet Mode' can be set manually. The feature is currently available in select countries, with more coming soon.
Takeaway: While 'Quiet Mode' will, of course, give more control to users – teenagers in particular might feel 'left behind' during their Instagram 'off hours'. FOMO matters!
Location Tagging Element In YouTube Being Tested

YouTube is all set to add location tagging right inside the flow of uploading on the app. This new element is expected to add more context to YT shorts/clips. At present, location tagging can be done only AFTER uploading content.
Takeaway: The 'during-upload location tagging' feature should go a long way in ensuring that viewers come across more relevant content – thereby improving engagement rates.
A New Deal Between Meta and Shutterstock Has Landed

As confirmed by Adweek a few days back, Meta has entered into a new deal with leading stock photography website Shutterstock. As a result of this deal (as an 'expanded partnership'), Meta will be able to make use of the Shutterstock library – to ensure stronger Artificial Intelligence capabilities. From the legal perspective too, this is an important deal.
Takeaway: The new deal will help in Shutterstock content being effectively leveraged by Meta – helping the latter improve its creative tools (Ads, AI functionality, and promotions).
'Recommended Tweets' Being Scaled Back By Twitter

While the recent spurt in the number of 'Recommended Tweets' in the main Twitter feed (i.e., the 'For You' feed) has its own advantages, question marks are present regarding the user-engagement impacts these recommendations might have. With such concerns on the radar, Elon Musk & team have plans in the pipeline to scale back these recommended tweets. The 'For You' Twitter algorithm has been updated accordingly.
Takeaway: The main objective behind this is to make Twitter users come across such tweet content that they would find worthwhile to engage with.
That's about all for the third edition of Brandwizz Diaries. Let us know which of these highlights you found to be the most important.
We will be back next month, with your dose of exciting digital news & updates from February.
Till the next time, love thy digital!

Amit is a Digital nomad at Brandwizz. An avid learner who believes in the magic of Words and Music. Eternal Optimist. Book Lover. Cinephile. Creative Soul, Down to Earth human. Connect to Know more!!
Starting a New Project, or
Want to Collaborate with Us?
Starting a New Project, or Want to Collaborate with Us?
Starting a New Project, or Want to Collaborate with Us?