Social Commerce is the New Buzz; Here's Why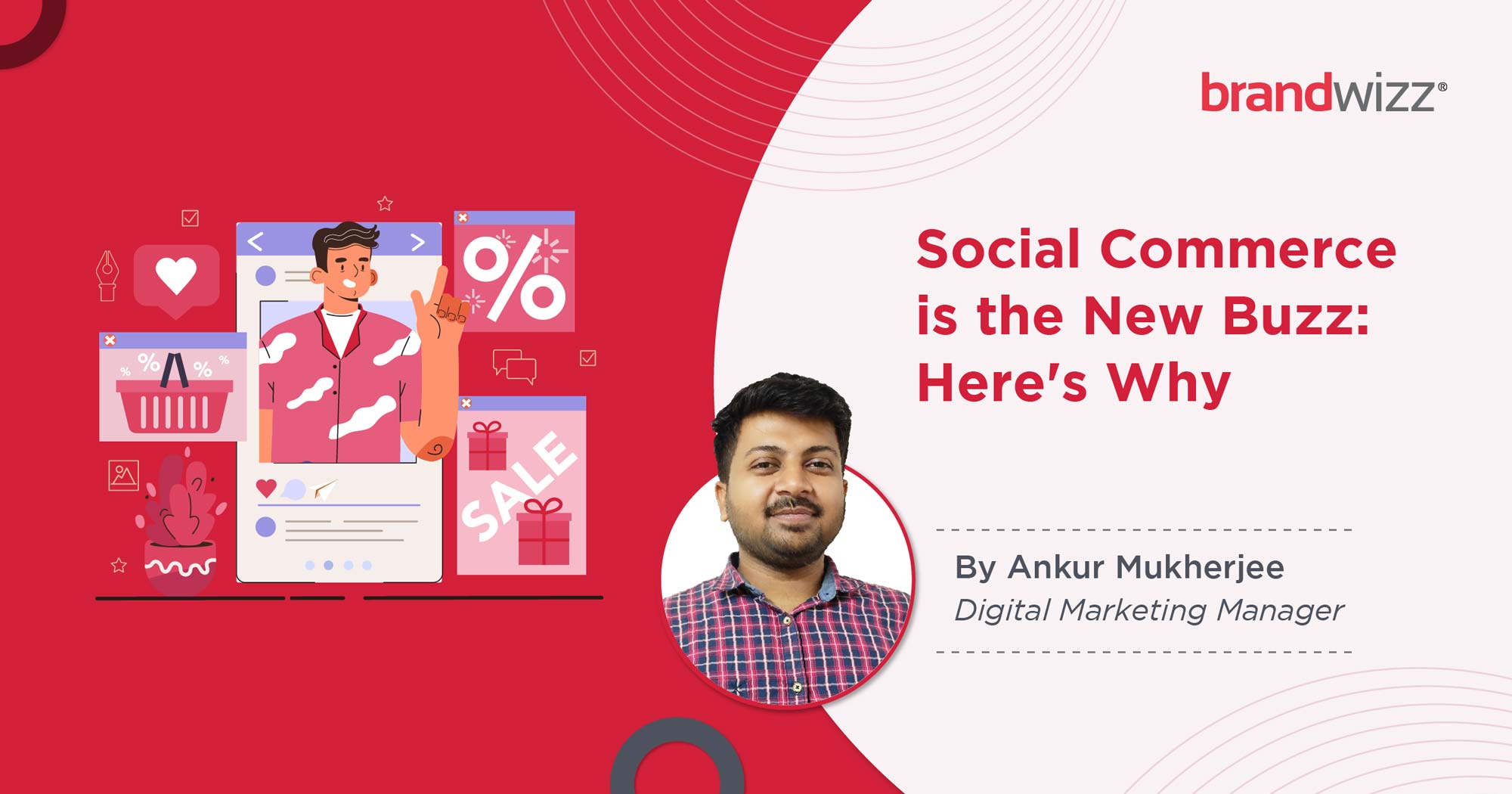 "It's word of mouth on steroids."

— Sandie Hawkins

GM, Global Business Solutions, Tiktok
Nothing probably sums up the ubiquitousness of social commerce in the present-day world better. There are currently close to 4.67 billion active users of social media in the world – and, on average, an individual spends around 5 years of their lives on the different social platforms. This, in turn, is opening up the opportunities of buying/selling directly on social media in a big way. In fact, according to ~86% online buyers, social media has eased their shopping journeys in some way or the other. By the end of 2026, the value of global "social media shopping" activities is projected to zoom past $1940 billion (growing at a CAGR of well over 29%) – making "social commerce" a veritable buzzword among social media marketing experts. We elaborate on this in what follows:
What Exactly Is 'Social Commerce'?
Putting things simply, social commerce refers to any activity that involves direct selling/buying of products or services on the various social media platforms. Right from Facebook Marketplace and Google Shopping advertisements, to selling products through social media groups/forums, Instagram product links and product pins on Pinterest – social commerce strategies and channels can be many & varied. In addition to social selling, sellers can directly interact with prospective buyers to raise awareness about social eCommerce applications, payment methods, and more.
Note: Any social media platform that can be used by e-store owners to sell their products serves as a 'social commerce platform'.
Social Commerce vs Social Media Marketing
While both have social media platforms at their core, there are distinct differences between social media marketing (or, SMM) and social commerce. Unlike in the latter, the entire shopping procedure in social commerce takes place on social media itself. On the other hand, social media marketing is more targeted towards building referral traffic volumes to eCommerce stores or websites. Typically, the number of clicks/taps involved in social commerce is significantly less than that in general eCommerce and/or website purchases.
Note: The Indian social commerce sector is expected to grow to a shade under $20 billion by FY25.
The Different Types Of Social Commerce
Irrespective of whether a seller uses social platforms to generate sales as individuals, or as a brand, or even as an influencer, there are different social commerce strategies that can be followed. Here is a snapshot of these strategies:
Platform-driven strategy
In this form of social commerce, sellers typically set up their custom online stores on platform-driven portals (e.g., eBay) and start selling.
Community-driven strategy
This involves the creation of online stores with sharing and messaging features (and as such, Facebook or Pinterest are ideal for this). The community-driven strategy looks to create a seamless combination of information sharing and, of course, sales.
Peer-driven strategy
When a person finds that his/her friends, family and acquaintances are purchasing something, (s)he is likely to get interested in the concerned product/service as well. This is what sellers with peer-driven social commerce strategies look to achieve.
Group-driven strategy
Groupon is a classic example of a successfully implemented social commerce strategy. In this, all members have a unified objective – buying the items they require at competitive prices (the members generally are not acquainted with each other).
User-driven strategy
As the name suggests, this form of social commerce is driven by user-generated content (or, UGC). From product feedback, reviews & recommendations, to creation of product lists and voting – there are several ways to influence purchasing behaviour.
The type of social commerce that would be most effective for a particular brand has to be carefully selected (it can also be a combination of multiple strategies). In order to avoid confusions and missteps in this regard, availing the services of a digital marketing agency in Kolkata is advisable.
Effective Social Commerce Builds Website Traffic
The advantages of social commerce go beyond the convenience factor of buyers. Consistent and effective social media commerce has the potential to boost web traffic volumes – and ultimately, website visibility on the Google SERP. Put in another way, social commerce can complement search engine optimisation (SEO) strategies. Sellers also have the option to share such content that links back to their business websites.
The Purchasing Journey Of Buyers Become Frictionless
The more steps a customer has to take to buy a product (click a button, tap on a link, etc.), the risks of drop-offs increase. Social commerce removes such probable points of friction from the buyers' journey. In most cases, all that a person needs to do is view the item, click on it for details, and purchase it. No additional steps, no extra complications, nowhere else to go – no frictions. Even the product research phase is shortened, since all feedback & reviews are visible upfront.
On Instagram; On Facebook; On Pinterest
By 2023-24, the value of online sales worldwide is set to go beyond the $730 billion mark. The market has immense potential – and it is vital for sellers to analyse & understand which platform(s) their customers are primarily present on – and craft their social commerce plans accordingly.
Facebook and Instagram are extremely popular as social commerce platforms – with close to 80% online buyers doing their research on these channels. Setting up a Facebook store is fairly easy, and the products listed for sale should be tagged in different posts (static & video).
On Instagram, there are options to add product links in posts as well as in the story section. On a monthly basis, shopping tags on Instagram receive over 126 million clicks. Pinterest too is growing as a viable social commerce channel – with around 49% active users interested in shopping directly from the platform.
Note: As social commerce is growing and online buyers are looking for prompt responses from sellers – the importance of AI-powered chatbots is going up. Online stores with chatbot support drive up engagements, offer real-time customer assistance, and even ensure smooth, secure checkout.
Boosting Buyer Loyalty & Brand Recall Through Social Commerce
Social media platforms double up as excellent tools to create strong customer-relationships and capture the mindshare of the target audience. Through content/online store material that are aesthetically appealing, deliver value, and have a 'connect', sellers can easily get new leads as well as bolster their count of repeat buyers. The role of social media influencers also need to be mentioned in this context. Through influencer partnerships and recommendations, a brand can get a distinct edge in the social commerce space.
Note: By 2023, livestream shopping will be a $25 billion sector in the United States alone. Another new trend to keep an eye out for.
Over the next few years, the growth rate of social commerce is expected to be nearly 3X more than that of conventional eCommerce. With social commerce becoming the new buzzword, both buyers and sellers are increasingly warming up to the many conveniences it delivers. According to a recent report, nearly 31% of customers are willing to buy from social media platforms directly, while 4 out of every 10 suppliers have started utilising social platforms to boost sales. In such a scenario, it is understandable why any good digital marketing agency in Kolkata has social media marketing as a key service in its portfolio. We live in a 'connected world of business' – one in which social commerce is already playing an important role, and is poised to become a game-changer in the foreseeable future.
Social commerce has well and truly revolutionised the concept of online shopping, making things more convenient & immersive than ever. This is surely a trend that will keep getting stronger!

Starting a New Project, or
Want to Collaborate with Us?
Starting a New Project, or Want to Collaborate with Us?
Starting a New Project, or Want to Collaborate with Us?