Best Ways to Leverage Social Media For Lead Generation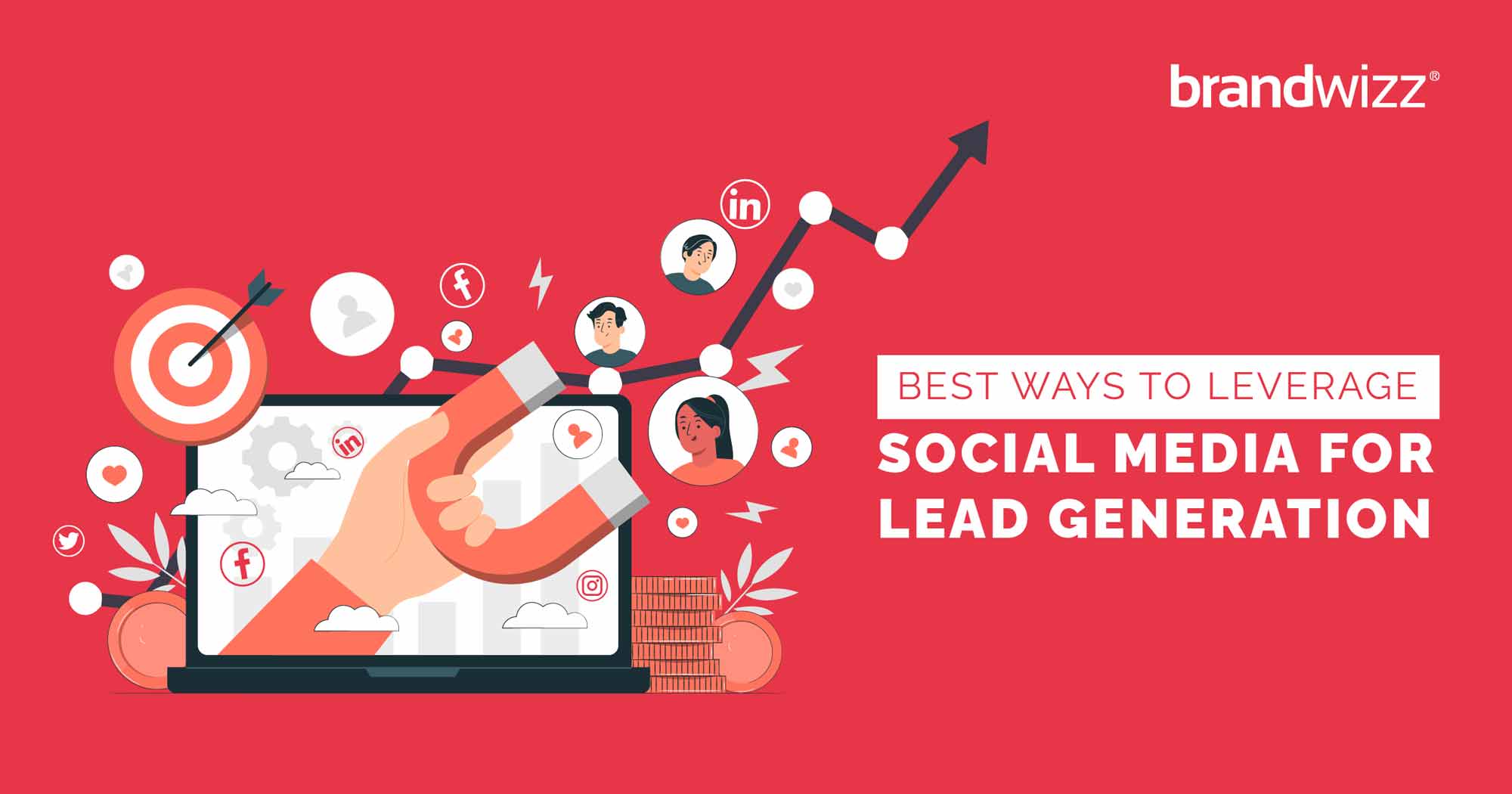 For more than 60% B2B marketers, lead generation is often the biggest challenge. On average, more than half of the total marketing budget is spent on generating viable leads that are likely to lead to sales. Social media platforms (LinkedIn, Facebook, and to a lesser extent, Twitter, Pinterest and Instagram) have emerged as highly effective tools for lead generation. A study found that, around 2 out of every 3 marketers can generate good-quality business leads by investing only around 6-7 hours in a week on social media marketing. We will here take you through the best ways to leverage social media for lead generation:
Having Optimised Social Media Profiles Is An Absolute Must
When you have a half-baked, partially complete, uninteresting social media page, people will simply come, spend a few seconds, and then just wander away. That's a 'lost lead' for you. Focus on optimising your profiles on the different social media channels, so that lead information can be organically collected in a seamless manner. In a nutshell, prepare your social profiles as valuable resources for your potential buyers.
Attention span of the average person using the internet is short, and growing shorter. That's precisely why you need to have compelling and clickable content on your social media pages. Make sure that the bio section of your page has your website link. The call-to-action (CTA) should be clear enough for people to understand what they would get by clicking on any particular link/button. To collect genuine leads, marketers can also give the option to subscribe to newsletters, sign up for emails, and such other actions.
Prepare Attractive Lead Magnet Offers
Over the last year or so, businesses managed to grow by nearly 25% by generating genuine leads through social media channels. By giving additional incentives to interact with social media content, you can boost the chances of converting more followers into viable business leads. Everyone is looking for actionable information and exciting deals out there – and if your 'lead magnets' are strong enough, you can generate a more-than-decent number of leads within a relatively short time-span.
From case studies and research reports, to ebooks, whitepapers, discount coupons and more – you can pick and choose from a wide range of gated content options, to engage your followers (such content should not be freely available anywhere else on the web). Avoid putting in lengthy, complicated forms and/or poor-quality content in such gated resources. Use the lead magnets to collect basic information (e.g., name, email address) and take it up from there.
Frame A Smart Social Media Advertising Strategy
Organic lead generation is absolutely amazing – but more often than not – you will need to supplement that with a carefully thought-out social media ad strategy. From lead ads on Facebook and Instagram, to lead-gen forms on LinkedIn – there are plenty of avenues to generate quality leads through social media advertising. Compared to the ~2.3% average website conversion rate, the conversion rate of LinkedIn lead gen forms is nearly 13%. This gives a clear idea of the value of social media ads for B2B lead generation.
Social media advertising also gives you the opportunity to engage with prospects that were apparently 'lost'. On average, the click-through-rate (CTR) of retargeted ads is almost 10 times more than that of regular advertisements – and they are very useful in giving people a nudge towards taking a particular action (say, completing a form submission). Consider having a sequential plan for your retargeted ads on social media to facilitate customer journeys.
The World Has Gone Viral, And So Should You
Virtual events like webinars and Q&A sessions – when hosted on your social pages – serve as extremely effective ways for lead generation and subsequent follow-up. Ideally, have a pre-registration process for such events to collect lead information. In order to keep user-engagement levels high, consider posting event updates regularly.
Apart from helping you get fresh leads, well-organised and informative virtual events on social media also consolidate your brand's positioning and boost your efforts to become an 'influencer'. That, in turn, often ushers in positive word-of-mouth publicity that lasts well after the event is over. You can also repurpose event-related content – like infographics, interviews and whitepapers – to sustain the social media lead generation process.
Use Social Media Referral Campaigns
Referral marketing is another useful strategy that B2B marketers often use to augment lead generation for business. Brand awareness, in particular, receives a huge boost when you provide incentives (freebies, discounts, loyalty points, etc.) to your followers, for referring their family-members and/or friends. More people know about your business, and you get more leads to work with – it's a veritable 'win-win situation' for everyone.
User-referrals are an integral part of the customer-relationships you are striving to establish and maintain. Post updates on your social media channels about the referral campaign details. You can also put teasers/hooks on your social media stories. Monitor, understand and respond to all the conversations happening on social media regarding your brand. To get the most out of social media marketing (SEM), your 'social listening' skills should be excellent.
Content Distribution On Social Media
7 out of every 10 social marketers use social media marketing for bolstering brand awareness – while lead generation is the top goal for 59% marketers. Content distribution is an effective tool for either objective. With the help of a fine-tuned content distribution strategy, you can easily convert your social media followers into fans – and gradually move them further across the sales funnel. Great content is useful for lead generation only when it is distributed strategically.
For your content marketing plans to yield desired results on social media, you need to be very systematic about things. Understand your key marketing objectives, and plan the content in a manner that would indeed deliver value to viewers. You also need to ensure that high-value content is getting the most exposure – and even more importantly, you are tracking all the relevant social media metrics. Contests, polls, surveys can all be part of your content strategy.
At the end of the day, all that a business is concerned with is the overall conversion rates. Social media rules the roost in this regard – with the conversion rates from these platforms being around 13% higher than the average lead conversion rates. Having a presence on the different social media channels for B2B businesses is necessary but no longer sufficient – marketers need to know how to optimally leverage these avenues, and usher in greater success.

Starting a New Project, or
Want to Collaborate with Us?
Starting a New Project, or Want to Collaborate with Us?
Starting a New Project, or Want to Collaborate with Us?