8 Big Digital Marketing Trends You Need To Consider For 2023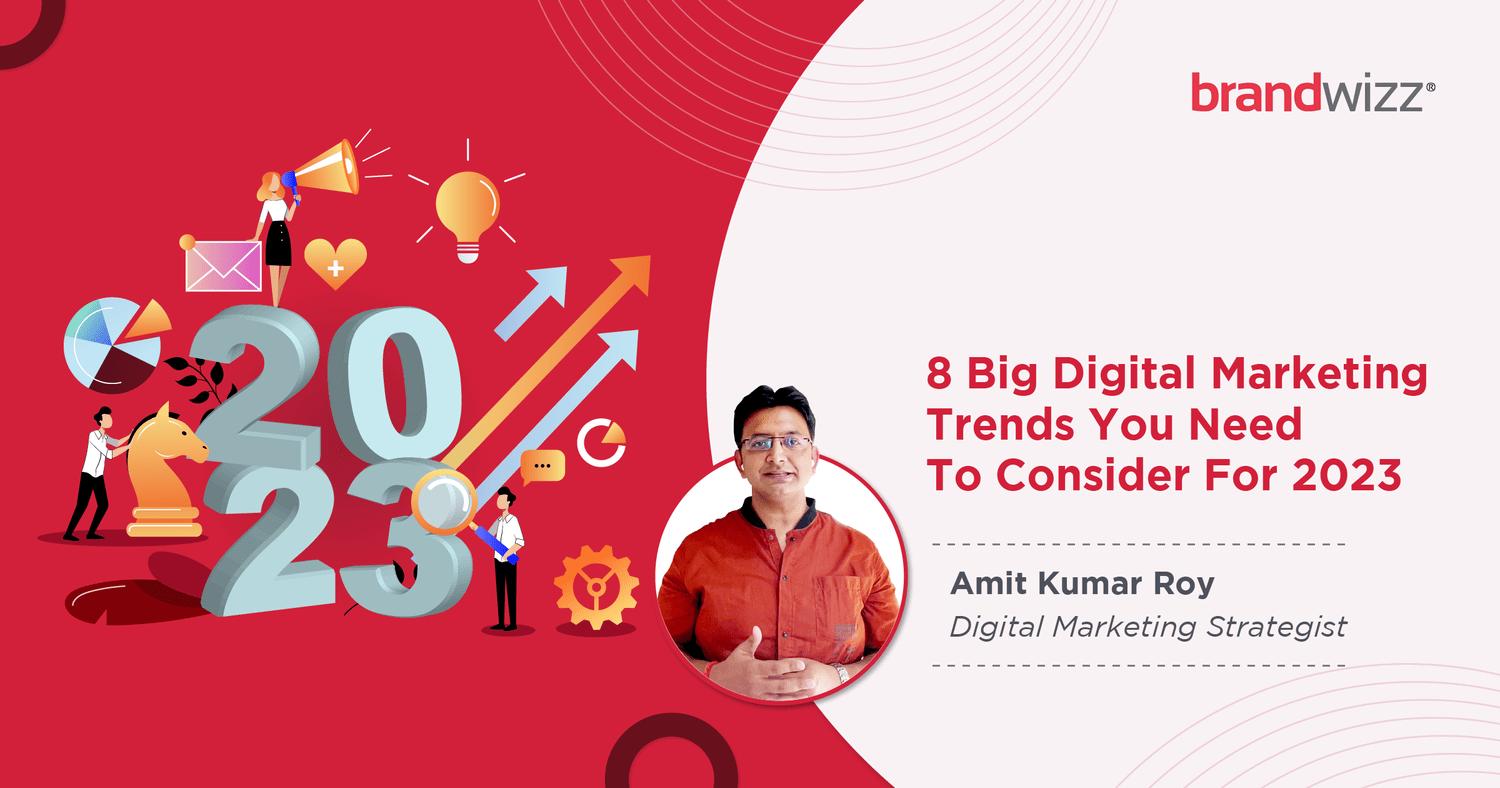 Social media has become a ubiquitous element of present day lives. The total number of active social media users across the world has swelled to well in excess of 4.8 billion (which amounts to ~60% of the global population). With an unlimited pool of prospective buyers 'living in the digital world', it has become imperative for businesses to have clearly defined and consistent digital marketing & promotional plans. By availing the services of any leading digital marketing company, organisations can drive their brand-building activities, generate awareness, and give a boost to lead generation. The possibilities are endless.
Simply having a digital presence, on platforms like LinkedIn, Facebook and Instagram, does not – however – cut the ice. Online marketing is in a constant state of flux, and the latest trends & updates need to be carefully tracked and implemented, to leverage the maximum value out of these platforms. Over here, we will take a look at the most important digital marketing trends you need to watch out for in 2023:
The Roles Of Video Marketing and Curated Content Are Growing
To facilitate customer journeys through marketing and sales funnels, both B2B and B2C companies are increasingly relying on videos. According to a recent survey, ~88% businesses use videos as a key part of their branding communications. Product/Service explainer videos and social media videos have emerged as the most frequently used, followed by presentations, video testimonials, advertisements, product demos/teasers & more.
While the importance of using original content on digital platforms will remain in 2023 & beyond, there is a definite trend towards using more relevant, curated content. Such content typically ranges from research reports, PRs, blogs and interviews, to industry news, podcasts and feature showcases. Insightful curated content adds trust & value in a big way.
More Creativity Grabs More Attention; The Importance Of Capturing Big Data
The digital space is already overcrowded, there are no two ways about it. To stay ahead of the competition and grab the attention of the target audience, creativity is the most powerful tool. Through creativity, digital marketing agencies can help businesses/brands share content that is unique, informative, relevant, and is successful in capturing the mindspace of people. Any digital communication with a run-of-the-mill, 'me-too' feel is never going to work.
With concerns over data privacy rising, the onus is on businesses to come up with new ways to collect valuable customer information. Form-building and creation of gated content have come up as effective big data collection methods. By implementing these data collection practices, companies can drive up engagement rates, gather key intel about buyer behaviour and preferences, and make their marketing activities more customised.
The Focus Is Squarely On Augmented Reality; Gen-Z Is Watching
While the augmented reality (AR) bandwagon had started picking up pace in the pre-Covid world, the global pandemic has really put the spotlight on the importance of 'immersive marketing'. The popularity of online shopping is at an all-time high – and it is only through innovative awareness/communication campaigns (e.g., 3D walkthroughs for real estate companies), can businesses deliver the level of immersive experiences that the modern-day buyers are looking for.
While on the topic of AR applications, it is also important to highlight the growing presence of the Gen-Z audience in the digital world. By the end of 2025, it has been projected that 1 out of every 3 Gen-Z individuals will use AR technologies (hardware, AR glasses, & more) to do shopping online. The bottomline is straightforward : businesses need to design immersive visual experiences on smartphones – that people will be interested to engage with.
Creating A Relatable Brand Persona; The Rise Of Realistic Influencer Marketing
As any good digital marketing agency in Kolkata (or any other place, for that matter) would confirm, businesses need to pay attention to building a humane side to their brands. At the end of the day, people prefer working with companies that they can relate with. In 2023 and beyond, brands will be increasingly focussing on establishing a level of 'interpersonal communication'. Doing this, in turn, will make the concerned brands come across as more authentic, relatable and trustworthy – and customer loyalty will go up.
2023 is also likely to be the year when the shift from glitzy celebrity endorsements to more believable, realistic influencer marketing becomes pronounced. In other words, the trend of using micro-influencers and user-generated content (UGC) will continue to gain in momentum. In the digital marketing space, TRUST is of utmost importance – and 'real' content creators (even when they do not have thousands of followers) can make a difference here.
Customer Experience (CX) Optimisation Through Artificial Intelligence
On the World Wide Web, people are impatient (their browsing behaviour clearly shows this). Businesses have identified this, and are coming up with new strategies to ensure that people find 'helpful content' – information that they are truly interested in – as promptly as possible. This would enhance the overall user-experience / customer-experience (UX/CX) and optimise their online journeys. With digital algorithms being constantly updated, it is also vital to keep track of the latest changes, so that online marketing is not hampered at any stage.
Practically all digital marketing initiatives involve artificial intelligence (AI), in some way or the other. Going forward, it would be absolutely essential for businesses and marketers to understand how these AI algorithms can impact the effectiveness of online marketing strategies – and modify plans accordingly. With the help of AI-powered marketing, businesses can send the RIGHT messages to the RIGHT audience at the RIGHT time.
The Rise & Rise Of Social Communities
In the digital space, businesses are aware of the need of their potential customers to interact with like-minded people, and share their pain-points, needs, interests & more. This trend is driving the growth of niche communities and social groups – across platforms like Reddit, Twitter, LinkedIn, Tiktok and more. By creating dedicated 'customer communities', brands are helping people express their opinions, and ensuring that every decision is backed by authentic, ground-level information.
Online communities, discussion groups & forums serve as excellent platforms for individuals to connect with brands as well as peers, exchange opinions, share feedback, and get help & support as required. Marketers also participate in these communities, to pick important tips, ideas and growth hacks. People need to find their 'voice' online.
Local Marketing Set To Grow Stronger; Brand Metaverse To Gradually Pick Up
Last year, nearly 98% of people used the internet to look up local businesses (as per a SafariDigital survey). Over the next few quarters, such 'local marketing' is all set to grow even stronger. As searches for 'companies near me' (particularly on mobile devices) keeps growing exponentially, businesses are making a conscious effort to leverage digital marketing strategies, and generate content that audiences from diverse geographies can relate to. In particular, brands that have touchpoints at multiple locations need to 'localise' their communication strategies.
While there are still lingering doubts over its cost-management and profitability, 2023 is likely to witness some movement, as far as the 'Metaverse evolution' is concerned. In their bid to get the maximum value out of their virtual branding communications, brands are trying to come up with strategies that build virtual presence / domains with strong recall values. It won't be surprising if several major brands take the Metaverse leap this year.
Email Marketing; Real-Time Messaging; Response Management
For connecting with customers (both prospective and existing), email marketing will continue to be mighty important in 2023 and later. From product launches and company announcements, to special day wishes and event participation news – information of all types can be seamlessly shared through emails. Latest reports show that a whopping 89% of online marketers use email marketing as a lead-generation tool.
Time is a vital element in every successful digital marketing methodology. Real-time messaging platforms, together with AI chatbots, are witnessing rapid adoption rates – as businesses are making an attempt to connect with customers directly, and without any delays. Over time, these messaging platforms have the potential to double up as information hubs.
Awareness about the need for efficient response management is also growing among businesses. To build authenticity and reliability, companies need to respond promptly to customer queries, and resolve concerns as quickly as possible. The digital world is competitive, and being 'always available' has to be a priority.
On average, digital marketing contributes around 73% of the total marketing budgets of businesses (in fact, 56% of all marketing happens in the digital space). The top creative and digital marketing agencies are coming up with 360-degree online promotional plans (including web and social media marketing), to deliver the desired results – awareness, leads, conversions, etc. – for clients. By understanding the latest trends from this domain, and implementing them whenever possible, companies can indeed take their digital campaigns to the next level.
Between 2020 and 2026, digital marketing is projected to grow at CAGR of >9.5%. The industry is constantly evolving, and you need to keep up!


Amit is a Digital nomad at Brandwizz. An avid learner who believes in the magic of Words and Music. Eternal Optimist. Book Lover. Cinephile. Creative Soul, Down to Earth human. Connect to Know more!!
Starting a New Project, or
Want to Collaborate with Us?
Starting a New Project, or Want to Collaborate with Us?
Starting a New Project, or Want to Collaborate with Us?