Inbound Marketing Strategies for B2B Business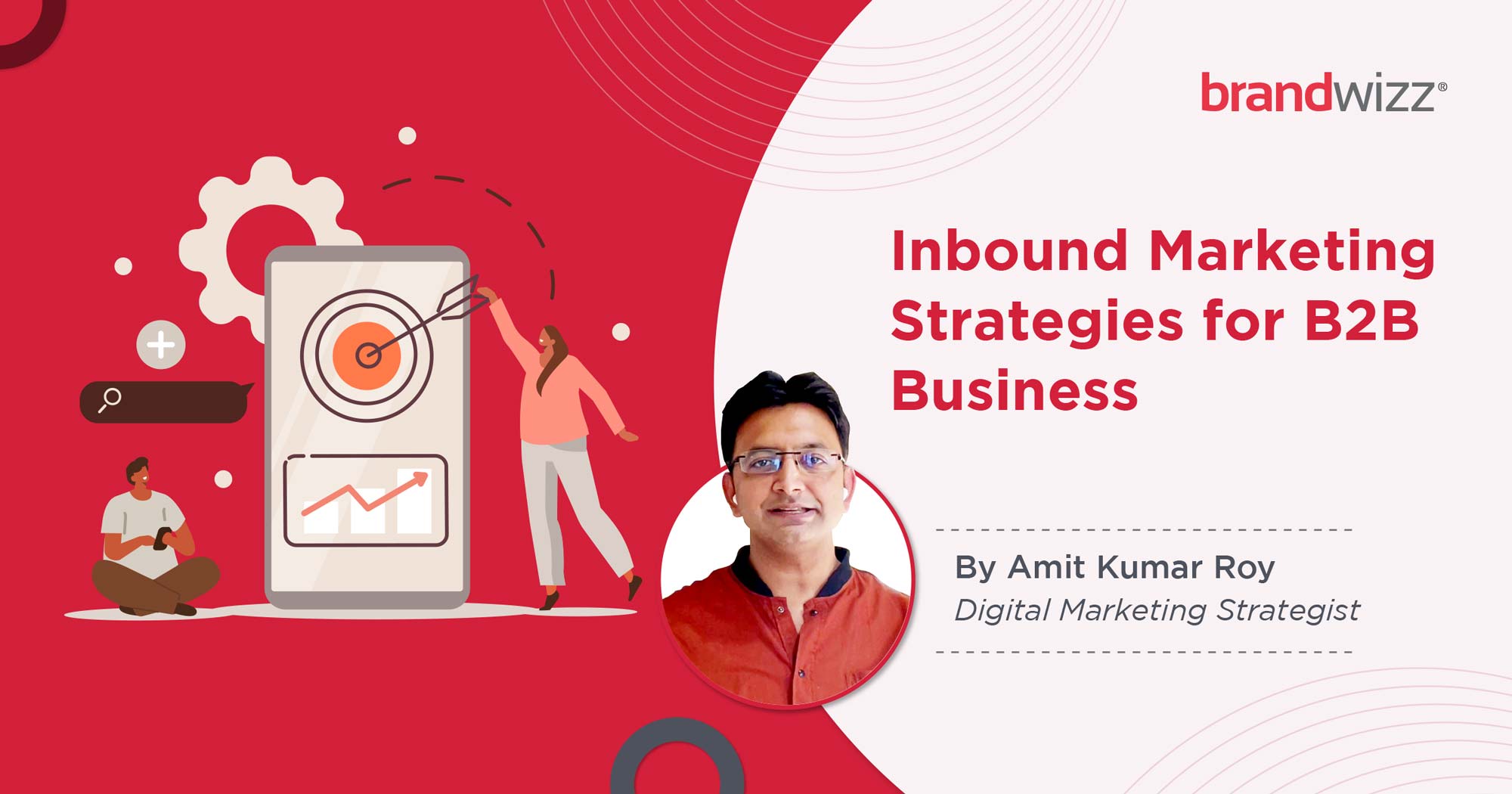 For B2B marketers, being able to 'organically connect' with their target customers is vital. Through customised, valuable and updated content creation strategies, businesses can effectively connect with people, deliver the answers or solutions they are looking for, optimise customer experiences, and foster long-term relationships (read: brand loyalty and recall). This is precisely what 'inbound marketing' is all about. Reports have shown that the volume of fruitful leads for a business through inbound marketing strategies can be upto 55% higher than those coming in through regular paid ads. Importantly, the 'cost-per-lead' figure through inbound tactics is also considerably less (~60% less) than that associated with conventional outbound marketing methods. Hence, any good full service digital marketing agency in Kolkata has inbound marketing services in its portfolio.
While there is no room for doubting the advantages of inbound marketing, businesses have to make sure that they have optimised, result-oriented plans in place. We will here focus on some important inbound marketing strategies for B2B businesses:
The Time Is Right To Invest On Video Content
This year, nearly 83% of the total customer traffic volume on the internet will be accounted for by videos. That's the reason why video marketing simply must feature in the inbound strategies of B2B brands. From product/service explainer videos & demonstrations, video blogs (vlogs) and case studies, to buyer testimonials and project showcases – video content can be of different, engaging varieties. The focus has to be on generating awareness about what a company has on offer and/or sharing valuable industry insights.
Note: Visually compelling videos help in lead generation for ~84% marketers, and are also powerful tools for bolstering brand awareness.
Publishing Blogs Regularly Should Be A Priority
The importance of blogging in inbound marketing strategies simply cannot be overemphasised. In fact, regular blogging activities can pull up the ROI figures for B2B companies by upto 13 times. Of course, to deliver optimal values, blogs have to be properly structured and have relevant information – presented in an engaging format. The quality of writing has to be nuanced, targeted and address the readers' pain points. New blogs should be published regularly (e.g., weekly blog posts). It has to be, however, kept in mind that B2B marketers need to be patient in this regard – since blogging starts yielding results (in the form of web traffic growth) only after 12 to 14 months. Blogging is an effective strategy, but certainly not a magic potion.
Note: On average, the number of inbound links received by B2B companies that have dedicated blogging strategies is 95% more than that of organisations which do not blog.
Emails Still Play An Important Role In Inbound Marketing
Promotional emails often remain unopened. However, that does not mean the importance of email marketing as a whole is on the wane. To get the best value out of emails, it is important to identify the target contacts – and customise the email content, subject lines, and other visual elements accordingly. For a seamless customer experience, B2B companies can consider including their latest brand videos and blog posts (along with other advanced content) in the emails they send out. Sharing email newsletters is the most commonly used content marketing strategy for 8 out of every 10 B2B marketers. The key lies in sharing content that the audience is already looking for – and not just hard selling products/services. It's all about long-term trust-building.
Note: Compared to generic broadcasted emails, relevant & engaging mailers can drive nearly 17X higher leads & revenue.
Search Engine Optimisation Boosts Online Visibility & Drives Value
Leading digital marketing agencies invariably have search engine optimisation (or, SEO) in their bouquet of services. Given that ~75% of internet users never go beyond the first page of Google SERPs, this is hardly surprising. Through smart search marketing tactics and judicious use of keywords, B2B mdarketers can make sure that their corporate websites as well as blogs receive the required level of visibility on the online space (thereby increasing traffic counts). The need to use proper calls-to-action (CTA) should also be highlighted in this context. Fully customised and intuitive CTA (buttons, links, banners, etc.) can increase conversion rates by more than 40%.
Note: 7 out of every 10 B2B marketers start their research for products/services on online search engines – underlining the importance of SEO in inbound marketing.
Greater Focus On Automation Leads To Better Lead Nurturing
Lost leads are a huge point of concern for B2B companies, irrespective of the sector they belong to. Nearly 78% of business leads do not end up in actual sales – with lack of a systematic lead-nurturing strategy often being a prime cause. This is where the need for using a proven marketing automation software comes into the picture. By automating and ensuring full scalability of lead nurturing workflows, marketers can track buyer behaviour at every step, and frame targeted strategies accordingly. With the help of smart automation, contextual marketing is becoming easier than ever – and lead management is turning more & more effective.
Note: Business leads, when properly nurtured, can make purchases that are upto 49% higher than those made by leads that are not nurtured. Marketing automation can be a definite game-changer in this regard.
The Power Of Social Media Has To Be Optimally Leveraged
More than 94% B2B marketers actively use different social media platforms – and for good reason. Channels like LinkedIn, Facebook, Twitter and Instagram are ideal for boosting content amplification and exposure levels. Any leading internet marketing agency in Kolkata offers social media marketing (SMM) plans that help businesses establish strong & personalised connections with their customers via social media. Social bookmarking portals, like Reddit, also serve as excellent platforms for striking up 'conversations' with target customers. Creating great content is all very well – but marketers have to ensure that such content is distributed properly to prospective buyers. Social media helps in this in a big way. The key for social media media success lies in sharing content that delivers value to viewers (and not just overly promotional product posts).
Note: There are close to 3.98 billion active social media users across the world. Through optimised SMM strategies, businesses can connect with an ever-expanding pool of potential customers.
B2B Inbound Marketers Have To Pay Attention To Advanced Content Creation
For easing the journey of people through sales funnels (as well as for engaging & guiding new leads), in-depth content has an important role to play. Such 'advanced content' typically has to delve on a specific topic in more detail than a blog post – thereby establishing that the underlying B2B company is a knowledgeable one with a high degree of relevant expertise. From whitepapers to case studies, and from ebooks to checklists & more, marketers have multiple types of advanced content creation strategies to choose from. To connect with and capture leads successfully, businesses need to understand which forms of advanced content would be the most suitable for their audience – and take things from there.
Note: User-generated content (UGC) and dedicated voice-of-the-customer (VOC) programs (e.g., testimonials) can also help B2B companies generate more leads AND get valuable buyer insights.
On average, more than 85% of people skip television ads. In fact, intrusive advertisements are a common cause for web traffic drop-offs. Close to 45% direct marketing emails end up unopened. These stats clearly indicate that outbound marketing – while still important – cannot be solely relied upon by B2B brands for effective lead generation. The need of the hour is to understand the way inbound marketing works, and how it boosts brand awareness, exposure, and even search engine optimisation (SEO) endeavours. By availing the services of a reliable digital marketing agency in Kolkata, businesses can identify the inbound strategies that would deliver maximum ROI figures, and take things to the next level.
Inbound marketing helps you in getting more genuine business leads at a significantly lower cost. Now, that's precisely what you would like, right?


Amit is a Digital nomad at Brandwizz. An avid learner who believes in the magic of Words and Music. Eternal Optimist. Book Lover. Cinephile. Creative Soul, Down to Earth human. Connect to Know more!!
Starting a New Project, or
Want to Collaborate with Us?
Starting a New Project, or Want to Collaborate with Us?
Starting a New Project, or Want to Collaborate with Us?