Google's Helpful Content Update: Is It Really Helpful?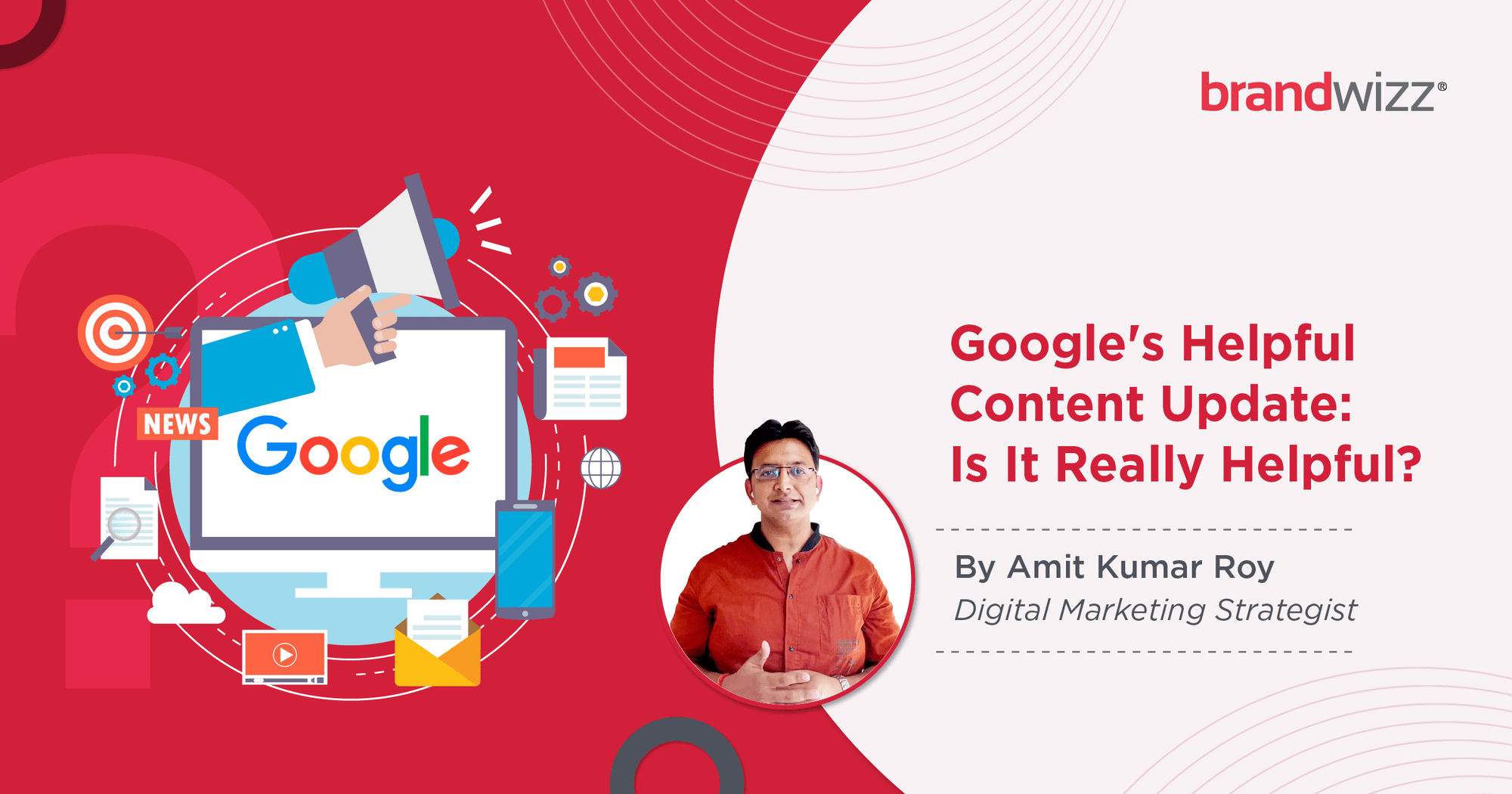 There has already been a lot of speculation and buzz over Google's Helpful Content Update, which was announced earlier this month and started rolling out from 25 August. Given that Google has a ~93% share in the online search domain, this update is likely to have extremely important repercussions on the digital marketing strategies of businesses in general, and website content development in particular. That's precisely why local SEO experts and related professionals are making it a point to understand what the Helpful Content Update is all about, and how they need to modify their content strategies accordingly. Here's a quick overview on how truly 'helpful' this update from Google is actually going to be:
People Will Get More Satisfactory Answers To Their Online Queries
The Helpful Content Update is going to make it more important than ever for content creators to add relevant information on websites. The information should add value, and be able to resolve the queries of online searchers in the best possible manner. If looking up the details about something on the internet is treated as a task, the new update will make sure that people find it easier to complete this task. The need for visiting multiple sites for the same information would be reduced (thereby bringing down bounce rates). Contrary to what many still believe, there is no 'magic figure' as far as website word count is concerned – and 'talking value' is way more important than just 'writing a lot'.
The Rise & Rise Of People-First Content
As most digital marketing and SEO services experts confirm, Google has been – for a long time – advocating the creation of content for actual humans, and not just for the search engines. With the new Helpful Content Update, such 'people-first' content will get uniform precedence, as far as online rankings and visibility are concerned. It has to be kept under consideration that the latest roll-out is a sitewide update – and sites that are affected by the Helpful Content Update are likely to have the negative signal associated with them for several months. While doing the necessary modifications will lead to site recovery, abiding by the update's requirements from the start is, by far, the smarter option.
A New Signal For Google For Content Ranking
The Helpful Content Update from the global search engine giant will use an automated machine learning (ML) process for its classifier (as John Mueller, Google's Search Advocate, has highlighted). Unlike earlier spam penalties or manual actions, the update will affect all sites that are 'classified' to have too much of 'unhelpful content'. As a result, the search performance (i.e., online visibility) of the concerned website will suffer. There are two more points that warrant a special mention in this context: Firstly, it won't be possible to detect which page(s) or URL(s) have been classified as 'unhelpful' – necessitating entire site audits. Secondly, given that the Helpful Content Update is a sitewide algorithm, strategies like putting the low-quality content in a subdomain/subfolder are not going to work (using 'noindex' is not advisable either). The classifier constantly processes scores – and websites with sub-optimal content will get hit.
Note: To start with, the new update will be applicable to English searches only. It is not a core update, and will have implications only on Google Search (and not on Discover) – at least for now.
Having, And Sticking To, A Particular Line Of Expertise Will Be Vital
Consider this: You have a website about organic, gluten-free food. Now, you get an opportunity to leverage a high-value keyword on, say, skincare routines – and write an informative article around it. While this article will be helpful per se, your main audience, who expect information on organic food on your pages, will not find it useful. According to the Helpful Content Update, this will send out a negative signal.
The new update will allow web content developers and local SEO professionals to ensure that a website primarily caters to the requirements and queries of its existing target audience. Simply writing on a trending topic – even when it has very little or no relation with the focus area(s) of the website – will be counterproductive. Sticking to a main set of topic(s) is the best way to avoid risks of negative impacts.
Understanding Search Intent: The Evolution Of SEO
Search engine optimisation has come a long way from the 2000s. With the Helpful Content Update, the weightage assigned to satisfactorily serving the 'search intent' of users has increased manifold. For relevant search queries, a high-ranking website has to deliver a consistently good experience to users (otherwise, the high bounce rate will clearly show that the concerned website is not a good fit for that search query). At the end of the day, Google is there for optimising the search experience of people – and not just ranking a plethora of websites. SEO services need to become smarter and more targeted.
The Helpful Content Update Is Not Panda 5.0
Google's Panda Update (first announced in 2011) cracked down on low-quality content in a big way. Given that the new Helpful Content Update also works on the same lines – it won't be uncommon to find similarities between the two. However, unlike the latest update, Google Panda is a part of the search engine's core algorithm. Google has also officially stated that Helpful Content Update will be rolled out 'in addition to' Panda.
In terms of the long-term impact on content marketing and local SEO though, the new update will be a lot like the Panda and Penguin updates, which revolutionised SEO strategies for practically everyone. At present, the Helpful Content Update will primarily look at tech content, online education portals, shopping & entertainment portals and related website content.
The Importance Of E-A-T Is Set To Increase Exponentially

Till now, Expertise, Authoritativeness and Trustworthiness (or, E-A-T) – key factors in the Search Quality Evaluator Guidelines of Google – were mostly relevant for online content that can affect the safety, happiness, finances or health of users (also known as YMYL, or 'your-money-or-your-life' content). The Helpful Content Update will make E-A-T more universal. Information that demonstrates real expertise (preferably, first-hand expertise) will get priority – while content that has simply summarised details available elsewhere, or contain a lot of fluff, will be negatively affected. Content that is written to rank well on SERPs will not do well, and the focus will be on information that will be informative and engaging for users.
On the World Wide Web, speculative content is a big thing. However, such content generally does not have any confirmed answers. This type of content, which is mainly based on rumours and hearsay (i.e., no factual basis) is going to be affected by the Helpful Content Update. Google has always given precedence to content that is accurate and builds trust – and this trend will become all the more evident with the latest update.
As the undisputed search engine leader, Google has constantly reiterated its vision to systematically collate and present all the information on the World Wide Web and present it in a manner that would be most useful, accessible and relevant for users. The 'Helpful Content Update' is yet another step to ensure this. The onus now lies with web content creators and experts on SEO services to make sure that all content is written with a 'people-first' perspective, and not for the sole purpose of ranking high on Google (i.e., content for the bots). The latest update will add a new dimension to how web pages are ranked on Google – and only the most 'helpful' content will get maximum online visibility.
On average, 3 out of every 4 people do not go beyond the first page of the Google SERP. It is important for SEO professionals to understand the nitty-gritty of the new update, and incorporate changes as required. The world of online search is an insanely competitive one, and businesses simply cannot afford to get left behind.


Amit is a Digital nomad at Brandwizz. An avid learner who believes in the magic of Words and Music. Eternal Optimist. Book Lover. Cinephile. Creative Soul, Down to Earth human. Connect to Know more!!
Starting a New Project, or
Want to Collaborate with Us?
Starting a New Project, or Want to Collaborate with Us?
Starting a New Project, or Want to Collaborate with Us?