How to Maximize the Facebook Marketing Strategy this Holiday Season?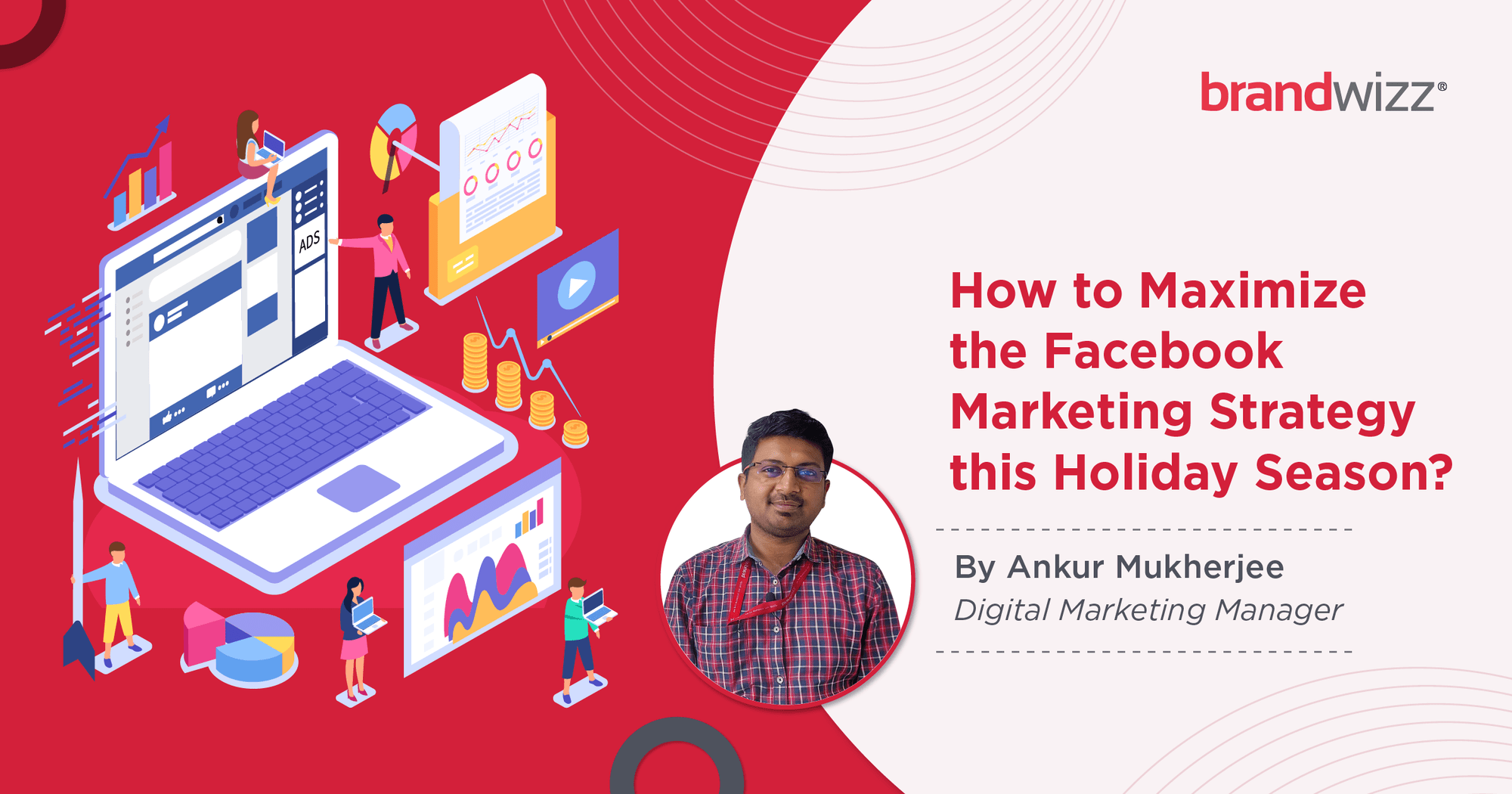 More than 36.6% of the global population are on Facebook. Even in the face of speculations that the popularity of FB is declining among the relatively 'younger community', this stat clearly underlines the 'numero uno' standing of Facebook among social media platforms. With ~2.9 billion active users (there are nearly 332 million Facebook users in India alone), FB presents unlimited opportunities for digital marketers to connect with potential customers, generate awareness about the products/services they offer, build their brands, and even complete sales (driving up revenue figures). Not surprisingly, any top social media marketing agency in Kolkata has Facebook Marketing as a critical component of their social media optimisation (SMO) services.
With the festive season well and truly upon us in India (and the global holiday season approaching soon), the onus is squarely on online marketers to ensure that their Facebook presence is set up correctly – so that they can get the maximum possible benefits from this period. Certain product categories show demand spikes during the holidays – and even if your business does not belong to any such category, a strong Facebook strategy helps in retaining the mindshare of buyers, both prospective and existing.
Here are a few handy tips to maximise marketing strategies on Facebook during this holiday season:
Make Sure That The Facebook Page Is Set Up Presently
On average, 7 out of every 10 Facebook users check their news feed everyday. Nearly 50% people use the platform multiple times during a day. These figures have the potential to go further up in the holiday season. You do not want these potential buyers to come across outdated, misleading  information (or worse, no information) – and navigate away from your marketing funnel, right?
Make it a point to fill up the 'About' section of your FB page properly – and add your brand USPs in an informative manner. All images should be uploaded in the correct dimensions (as specified by Facebook). There should be an easily visible 'call-to-action' (CTA) as well, to direct viewers to your online store/website/contact details. There will be heavy traffic on your Facebook business page(s) during the holiday period – you need to get the ground ready for them.
Personalisation Is The Key
Irrespective of whether you are prepping up your Facebook marketing strategies for the festive season in India, or gearing up for the Halloween and Christmas holidays – personalisation should always be a point of focus. For instance, a social media marketing company in Kolkata will recommend creating posts that are related (in some way or the other) to festivals like Navaratri, Dussehra, Diwali & more. This helps in capturing the attention of viewers, and increases the chances of engagements.
In particular, proper customisation and personalisation can increase the reach and click-through-rates (CTRs) of Facebook ads manifold. Many businesses use red & white colour themes for ads during the Christmas period. Elements like bats and pumpkins are used commonly in posts/ads around Halloween. In addition, it is also important to create different buyer personas – and tweak FB ad campaigns accordingly. Small changes regarding this can leave significant results.
Note: With the help of targeted advertising on Facebook, Lexus recently managed to boost overall engagement levels by more than 1670%.
Follow A Content Calendar And Start Preparing Well In Advance
Here's a conundrum for you: Marketing agencies as well certain businesses will go on short breaks during the holiday period. However, this is also the time when customer queries, lead generation opportunities and sales opportunities will be (in most cases) at their highest. Unless you start chalking out strategies well in advance, you will invariably find yourself in a race against time.
The best way to counter this rush is to prepare a dedicated content calendar, and adhere to it. Mark out the important dates – and back-calculate to find out when you & your team should start working on the respective deliverables. Have specific deadlines for every post or advertisement, and make sure they are not missed. As a rule of thumb, get the content calendar for the holiday period fixed at least six weeks in advance.
Curate Those Special Offers
Everyone likes discounts and special deals. Ramp up your holiday marketing plans, by creating festive offers and deals that will grab the eyeballs of your target audience. Prepare both posts and advertisements to push your deals & offers. Create a time-urgency too, so that sales are boosted promptly during festive times, when competition levels are already high.
Many businesses launch customised festive offers and deals around this time. To avoid the risk of getting lost in the crowd, add some distinctive holiday elements – stickers, backgrounds, layers, even emojis – to the creatives. Gifts should ideally be available in different price ranges. Shoppers love more options to browse – and it's on you to match up to their expectations.
Note: If possible, you can also consider creating a festive event – through which you will also be able to connect with your potential buyers, strike up interactions, and take things forward.
Videos Are A Powerful Facebook Marketing Tool
An average engagement rate of more than 6% clearly underlines the importance of videos as an element of Facebook marketing (when videos have proper titles and captions, views/viewing times increase further). Given that people are already checking out a lot of videos related to holiday tips and hacks during this time – it would be an excellent idea to put more effort on video posts during the festive weeks.
Instead of generic videos & reels, share focused content that highlights the key features and use cases of your product(s) in particular, and your business in general. Through the videos, give a nudge to viewers, to visit your website or online store (to get further information and/or contact details). That way, your business will gain more exposure on the social media platform – and there will be more potential leads.
Spread The Cheer
Hardly anyone likes to do business with a faceless organisation that PROMOTES its products/services ALL THE TIME. During the holiday season, plan special day wish posts on Facebook (and use relevant hashtags for the same) that people will be able to relate to. Any leading social media marketing agency in Kolkata would also be able to plan custom wish posts that underline the positioning, business values and standpoints of a brand.
Apart from static or video wish posts, businesses can personalise things further – by sharing exclusive bytes from their leaders. Such festive greetings, coming directly from the top brass of an organisation, invariably create a positive impression in the buyers' minds about the latter.
Pay Attention To User-Generated Content
While creating content buckets (i.e., categories) for Facebook marketing, the 'rule of thirds' should always be followed. While promotional posts should take up one-third of the total content, user-interaction content should contribute for the next one-third, and stories or ideas have to make up the rest. During the holiday period too, this rule has to be followed – with particular emphasis on user-interactions and user-generated content (UGC).
Post holiday-related polls and questions that would motivate viewers to respond (thereby pulling up engagements). Consider organising contests on Facebook, where people can share their own content. Establishing a strong brand communication strategy is imperative for digital marketing success – and user-generated content plays an important role, when it comes to doing business on FB.
Post Timing and Mobile Optimisation
Even the most unique and interesting content on Facebook can fail to grab eyeballs, when it is not posted at the 'right time'. Eliminate guesswork, and refer to Facebook's 'Audience Insights', to get full clarity on when your target viewers are most active on the platform. Factor in the special timings of the holiday season as well (after all, people are not likely to engage with FB posts when they are celebrating with friends & family). Test your post timings, and schedule the holiday-period posts at the most suitable times.
While planning for Facebook marketing for the festive period, it is vital to understand the psyche of the audience. For example, all social media ads need to be mobile-optimised, given that people prefer browsing their social pages on their smartphones. Add some humour elements, play around with holiday emotions, and deliver a positive experience. Keep things dynamic, and maximise chances of interactions while on the go.
Audience Insights And The Need To Track Everything
During the festive season, businesses can try out different content strategies, posting times, as well as ad strategies on Facebook. The key lies in identifying, and effectively targeting, the 'right' audience for the same. With the help of Facebook Pixel, you can systematically track user-behaviour, gain valuable insights, and use them to improve your social media marketing plans in future.
Digital marketing is a results-oriented domain – there are no two ways about it. Holiday-period marketing during the festive weeks is no exception to this. To get a clear idea of what strategies/content are working, list a set of metrics (e.g., follower count, post/video views, shares, clicks, etc.). Remember, a data-backed social marketing plan is a good plan.
While it has been declining for some time now, the average Facebook post still has an organic reach of well over 5.1%. More interestingly, the reach of Facebook ads is expanding exponentially on a YoY basis – and currently stands at a whopping 2.10 billion. In fact, recent reports have shown that FB ads reach over 34% of the world's population. The holiday season represents tremendous brand-building, lead generation and sales opportunities for many businesses. That's precisely why any good social media marketing company in Kolkata (or anywhere else, for that matter) recommends having focused & customised 'holiday marketing plans' in place on Facebook.
A successful marketing campaign on Facebook for the festival season can be rewarding in a big way. You can't afford to miss out on this!

Starting a New Project, or
Want to Collaborate with Us?
Starting a New Project, or Want to Collaborate with Us?
Starting a New Project, or Want to Collaborate with Us?