Social Media Optimization Tips for Better Brand Recognition & Leads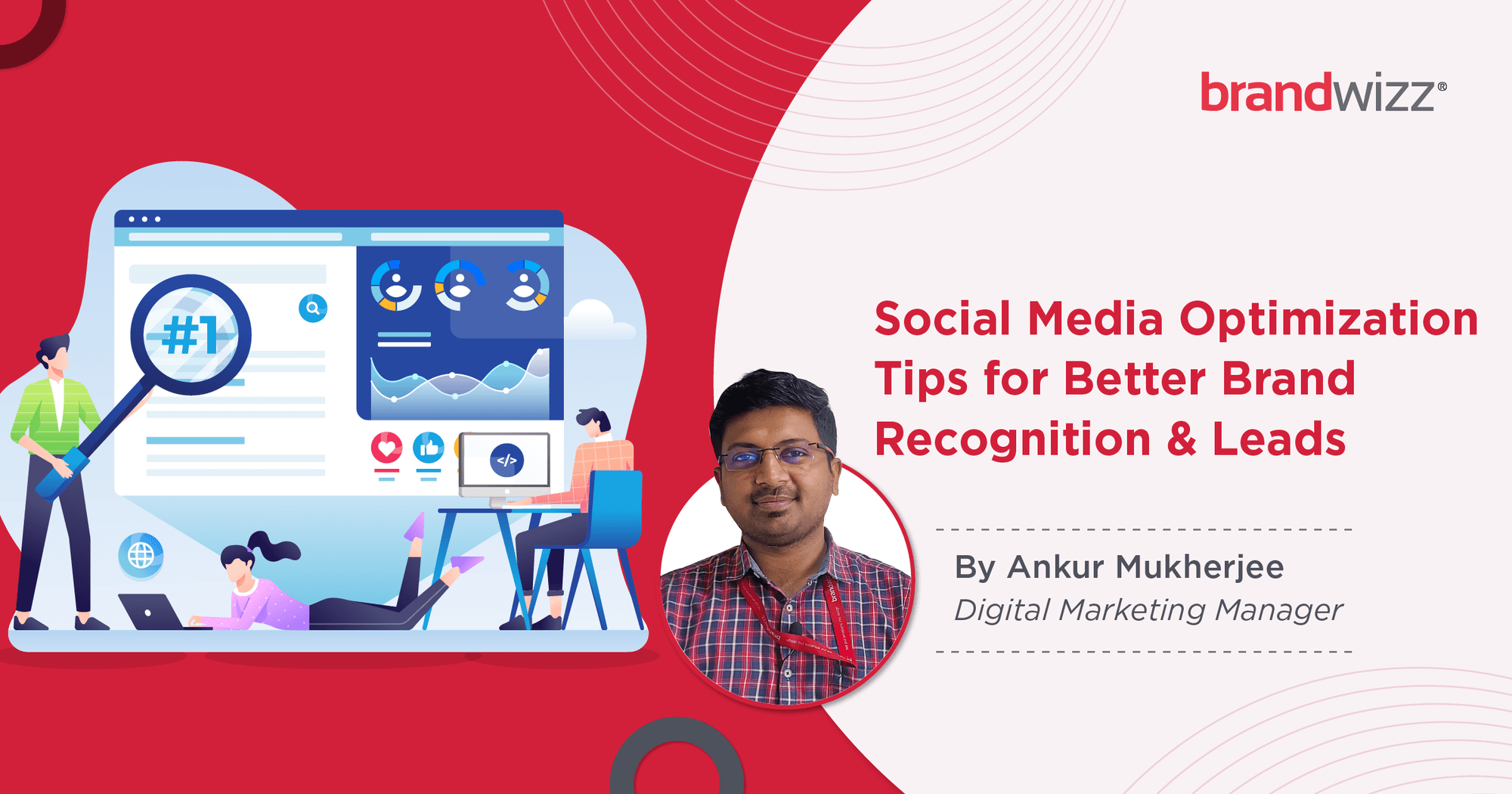 Last year, ~405 million people registered on at least one new social media platform. As of January 2022, the world had a total of nearly 4.6 million active social media users – indicating a YoY jump of around 10%. Over half of the global population currently 'lives on social media', opening up opportunities for businesses to leverage this space for connecting with a vast audience, boosting brand awareness & recognition levels and generating fruitful leads. The importance of social media optimization (SMO) in digital marketing is steadily rising, with 78% of online marketers being of the opinion that SMO has been beneficial for their respective organizations this year. Here's a roundup of what businesses should do, for gaining maximum traction for their brands online:
Work On Result-Oriented Social Media Campaigns
Every brand has its very own identity and positioning, with discrete objectives and purpose associated with them. Social media marketers need to understand the brands in an objective manner, and frame social media campaigns accordingly. Systematic target audience segmentation is of immense importance in this context. It is always advisable to do a detailed analysis of buyer behaviors and responses – before zeroing in on any particular social campaign strategy. The focus should always be on doing a campaign that people can connect with and add their opinions. Engagement matters.
Don't Bombard; Don't Fall Of The Radar
What is the very first step for starting a social media marketing strategy? That's right, publishing posts on the social channel(s). Once the platform(s) on which most of a brand's target audience is on has been identified, marketers need to make sure that their posting frequency is correct (this figure varies from one platform to another). While on Facebook, 1 or 2 posts should be published daily – Instagram posts have to be more frequent (e.g., can be upto 7-8 in a week). On LinkedIn, upto 4 posts in a day can be published. Make sure you are not sharing 'too much' or 'too little' content, and the correct posting frequency is maintained. When the posting schedules are optimized, social media can expand brand reach exponentially.
Add A Personal Touch; Focus On Storytelling
Every other business is investing time, money and effort on social media optimization. In the already crowded social marketplace, it is very important for a brand to have its own personality and voice. This uniqueness will help it stand out and grab eyeballs of the target audience. Make sure that the creatives and the copy ideas are original and well-researched. The brand communication should have a personal touch about it – with stories, case studies and other interactive content playing a vital part. A positive, interesting, informative brand tonality can easily resonate with viewers, helping the underlying brand grab more mindshare and gain more followers on social media. Once again, the exact brand tonality has to match the nature of the business.
Hashtags Are Important For Social Media Optimisation
For brand-related posts in particular, using hashtags is an integral part of social media management. Many people use trending hashtags to look up information in the social media space – and the onus lies on digital marketing experts to identify these popular and relevant hashtags that should go with the different posts. Adopting this strategy will enable people to discover and go through the type of information on social channels with greater ease. A role of caution though: do not use too many hashtags in a post, since that is likely to make the post appear spammy.
Frame Your Social Media Content Strategy
When it comes to marketing a brand on social media platform(s), posting just about anything is never a good idea. Any leading digital marketing agency would recommend making a detailed 'social media calendar/scheduler'- which would include all the different types of posts (static images, videos, news, etc.) that would be published. This should ideally be done on a monthly basis for every brand. Apart from maintaining a consistent frequency of content publishing, care has to be taken to ensure that posting dates are never missed (i.e., the schedule does not get messed up). Social media marketers also need to identify when posts should be published across platforms, and which ones should go on a standalone platform (e.g., LinkedIn-only).
Note: Like everything else in the field of marketing, social media strategies can become outdated over time. Every quarter, the strategies should be reviewed – and changes have to be made, as required.
An Optimised Social Media Profile Is A Good Social Media Profile
An incomplete social media profile, or stale, generic information in the bio section, reeks of inefficiency. One of the most basic steps for making social media optimization more effective is to ensure that the profiles are fully optimized. With the profile image often serving as a first point of contact in this space, marketers should have the brand logo over here. Maintaining consistency in the usernames across all social media platforms is also of paramount importance (this would eliminate probable confusion, and would build credibility). The social media bio section should be engaging, contain specific keywords, and include a link to the business website. More website traffic automatically translates to more leads.
On Social Media, Two-Way Communication Matters
It's probably a no-brainer – but still, many businesses make the mistake of not being 'social enough' on social media platforms. It is important to understand that the scope to interact directly with customers (both potential and existing) is excellent on social platforms. Brands need to post such content that 'connects' with followers and motivates them to strike up conversations. In addition, brand feedback – both positive and negative – received on social media also needs to be paid attention to. Prompt, regular two-way social media conversations are instrumental in building a positive impression about the underlying brand. Businesses can also pick up valuable pointers from the feedback, and refine their products/services accordingly.
The Need For RIGHT IMAGES and RIGHT LINKS
Nothing probably turns off viewers as much as images on social media platforms that are blurred, incorrectly cropped/cut, and appear generally unprofessional. Social media marketing experts need to double-check that all images and videos used on any platform are properly sized, and are of high-quality. Optimized images enhance the overall appearance of the social media profile of a business.
In addition to the ORIGINAL CONTENT shared on social media, businesses also need to post a certain volume of CURATED CONTENT. The latter includes links to external sources/web pages that would take brand engagements to the next level (i.e., links to blog posts, landing pages, etc.). In order to understand and track audience behavior as they interact with such links, putting in Urchin Tracking Modules (or, UTMs) in the social platforms and posts is recommended.
Influencer Marketing Is A Big Thing On Social Media
Digital influencers can make an impact in the decision-making of nearly 65% of all buyers online. Since influencers typically have a large follower base on social media, it can be a good option to use influencer marketing as a part of social media optimization strategies. In this context, it also needs to be highlighted that influencers have to be ideally selected from the same domain or industry sector. Doing so would ensure that there is a sync in the interests of the followers – and the brand awareness is increased among the 'right' target audience. An efficiently conducted influencer marketing campaign on social media can take up business recognition, inquiries, and social traffic figures manifold.
Staying On Top Of Analytics Is Vital
Social media marketing should never happen in a radarless manner. Digital experts typically set certain key performance indicators (KPIs) to gauge the overall social performance of brands. In order to facilitate performance optimization, social media marketers need to track what type of content is working and what's not (based on the set KPIs). The number of social media mentions have to be monitored as well, to understand the degree of buzz a brand has been able to generate. Other key metrics, like traffic, post/image/link clicks (i.e., engagement), reach and conversions also have to be regularly tested. The focus should always be on improving the share of voice (SoV) of a brand viz-a-viz its competitors.
Given the sheer ubiquitousness of platforms like LinkedIn and Twitter and Facebook and Instagram (& more), social media optimization is something that online marketers need to take up very seriously. With 1.4 million new users signing up on social media every day, it is becoming increasingly easier to connect with a wide pool of targeted audiences through these platforms – and that too, in a highly cost-effective manner. Of course, social media marketing needs to be done systematically for it to deliver results, and the above pointers should come in handy in this regard.
Dedicated social media marketing helps 2 out of every 3 businesses boost their lead generation activities. It's a race out there, and you can't afford to fall behind!

Starting a New Project, or
Want to Collaborate with Us?
Starting a New Project, or Want to Collaborate with Us?
Starting a New Project, or Want to Collaborate with Us?