5 Digital Marketing Expert Advice To Help Businesses Survive Recession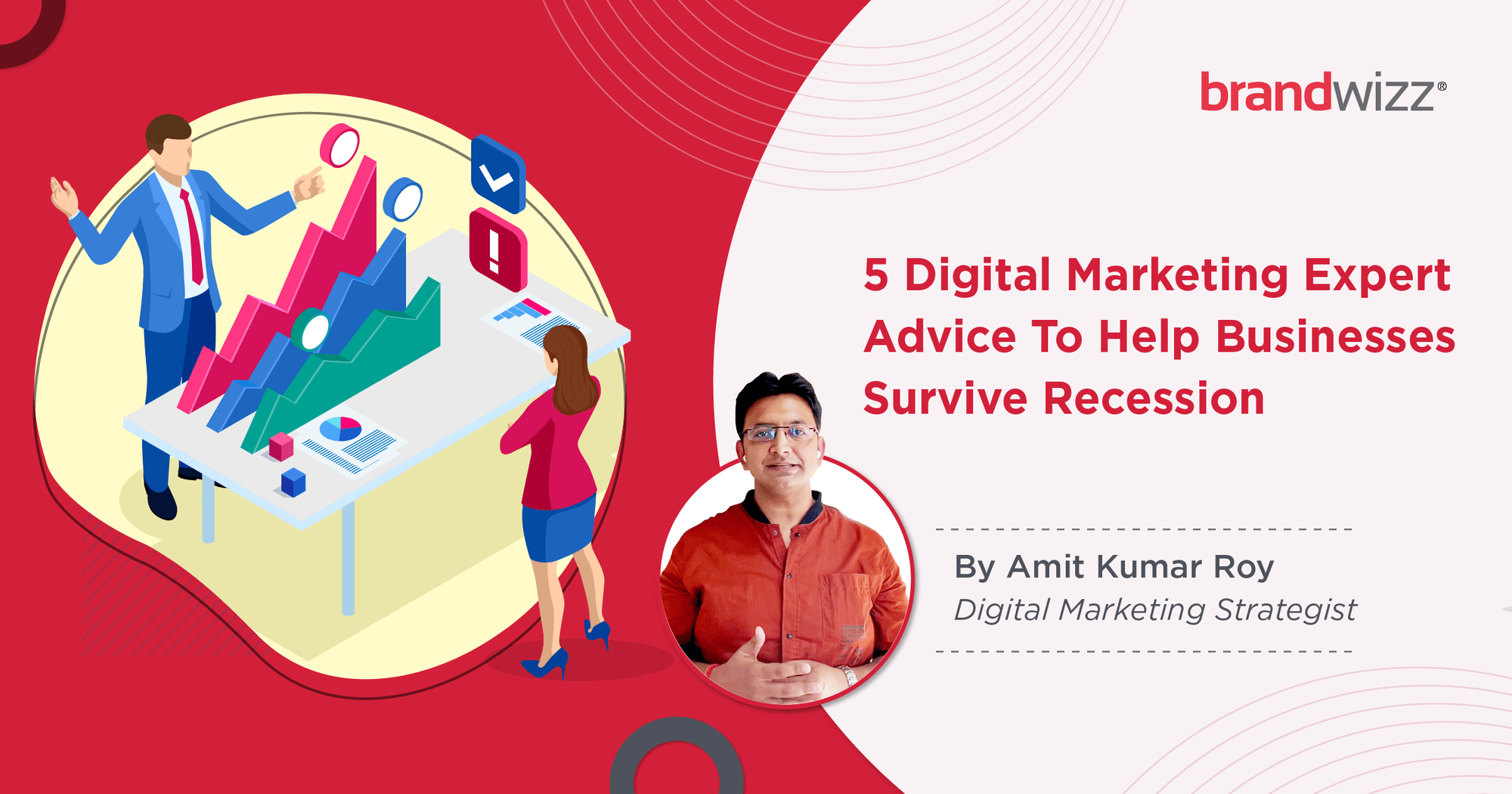 These are challenging times, there are no two ways about it. The global economy is still reeling from the ill-effects of the global pandemic. Factors like the Russia-Ukraine conflict and lockdowns in China have further compounded matters. While India might not be at a risk for the moment, many countries – including advanced nations like the United States – seem to be headed towards a stagflation (the US economy contracted for the second quarter running this year). From a relatively healthy 5.7% in 2021, global growth rates have plummeted to 2.9% this year – significantly lower than the figure projected earlier. The signs are ominous.
In the face of the looming recession, businesses – irrespective of their scale and nature – are, naturally, apprehensive of potential problems. In particular, dwindling sales figures and revenues – due to lower buying/trading activities – is a serious point of concern. Digital marketing is likely to be the saviour in the present scenario. By working with a reliable online marketing agency, businesses can connect with a larger cross-section of audience, and keep their heads above the water in these tough times.
Here's a few expert digital marketing tips to help businesses tide over the recessionary trends:
It Is Important To Focus On Building A Robust Online Presence
When a recession is looming, it is only natural for businesses to consider cutting down on their promotional & marketing expenses. In particular, digital marketing campaigns tend to bear the brunt of such cost-cutting activities. A couple of years back, even Google was forced to slash its total marketing budget by 50%, as close to 258 million jobs were lost globally. However, it is important for businesses to reconsider this stance – and ensure that their online presence does not suffer during these times.
As many businesses slacken off their digital marketing service and related strategies, the competition levels in the pre-recessionary markets often become lower. In such a scenario, maintaining the online marketing budget and making the online presence stronger sends out a clear signal of stability to prospective buyers. It is important to understand that people might not be looking to make big purchases (i.e., big 'conversions' might not happen right away) – but when the economic conditions are better and customers are ready to convert, your business needs to be right at the top of their mindshare. Through a combination of search engine optimisation (SEO) and pay-per-click advertising (PPC), a company can capture the mindshare of prospective buyers – even when the market situation is not very encouraging.
Pay More Attention To Existing Clients; Make Sure That Your Branding Is Consistent
Irrespective of the nature of a business, a new prospect has only around 14% chance of converting. Compare that with existing customers – for whom the chances of conversion are ~66%. It takes considerably less time, effort and expenses to effectively market product/services to these existing buyers when everyone is apprehensive of a recession, instead of trying to convert new leads. The focus has to be on building brand loyalty levels – through a smart strategy that includes email marketing, discount offers, loyalty benefits & more. The existing clients should feel appreciated, and they can even bring in new business through word-of-mouth publicity.
Branding and marketing communications need to be paid particular attention to, when an economic downturn is expected. Any good digital marketing agency would recommend framing a lean, clear and consistent communication strategy. Apart from strengthening buyer motivation levels and seamlessly delivering the promotional messages, consistent brand communications boost business credibility levels, creates loyalty, and can even help in establishing & nurturing an emotional connect between potential buyers and the products being offered. Press releases, newsletters, blog posts, paid ads – there are a host of online communication tools to keep buyers in the loop, and keep your business steady.
Video Marketing Matters; As Does Social Media Optimisation (SMO)
When there's a cloud of uncertainty over the condition of the markets, and probable recession, the need for creative, immersive and (most importantly) cost-efficient customer-engagement strategies rises to an all-time high. Video marketing can be an absolute life-saver in such situations. Through interesting, innovative, to-the-point video content, a business can easily share consumable & actionable information with the target audience – and build on the business commitment & trust factors. From product launch videos, 360° video tours of facilities (e.g., real estate properties), to customer testimonial videos, there are plenty of options that businesses can consider using.
In a way, the fallouts of an economic recession and the global pandemic can be somewhat similar. In a bid to minimise expenses and boost savings, people prefer to stay at home – and, in turn, spend more time on their smartphones and social media feeds. As a result, the opportunities of generating new leads and nurturing the existing ones through social media marketing (SMM) go up considerably. Apart from smoothening buyer-journeys through the sales funnel, an effective social media strategy also reiterates the fact that a business is still 'very much present' during the times of crisis.
Prioritise Resources And Stay On Top Of All Relevant Metrics
A recent Bloomberg Markets Live report revealed that nearly 49% investors believe that recession would arrive by the second half of 2023 (15% respondents expect the slowdown to happen this year itself). No business in the world has unlimited resources (budget, manpower, or other resources) – and it is vital to identify core, essential activities, and prioritise resource allocation accordingly. For instance, the digital marketing service can be tweaked to move from mass media promotions to direct mailers and focused ad strategies. Similarly, the bulk of the marketing budget should be spent on promoting the main products & services (instead of the 'allied products').
While it is important at all times, focusing on ROI optimisation is particularly vital during times of recessionary trends. Keep a close tab on all your business strategies and campaign performance – so that it becomes easy to understand the investments that are bringing in the desired results. Businesses should ideally make a list of the digital marketing metrics, analytics and key performance indicators (KPIs) and make modifications in them, as required. The 'Segmentation. Targeting. Positioning' (or, STP) strategies need to be reviewed as well. Nearly 45% of businesses do not have properly defined digital marketing strategies – and that needs to change, in the face of a looming recession.
Conversion Rate Optimisation Through An Engaging, Easily Accessible Website
Bringing down the average customer acquisition costs becomes a key objective for practically all businesses during times of economic slowdowns. Marketers have to accept the fact that business enquiries and lead-counts will be lower than usual – and maximum effort should go in towards converting the leads that are coming in. In other words, conversion rate optimisation (CRO) needs to take centrestage. This can be done by something as simple as improving the business website, analysing user-behaviour and interactions on site, and doing the necessary website revamps/element changes. When CRO is done right, cost of acquisition falls and the revenue-per-visitor figure goes up.
While it may not be apparent right away, a relative slowdown in business activities offers the perfect scope to do a full-blown website audit. This can include checking the UI/UX of the site, mobile-responsiveness, overall usability, and other related factors. It is important to get data-backed inputs on which pages are getting the most/least engagement, whether cart abandonments are becoming a problem, and what the other probable buyer friction points are. If required, make changes to the brand tonality and communication strategies (competitor research is essential for this). In the results-driven digital marketing strategy that is required in a recession-threatened economy, the website plays a central role indeed.
A global recession invariably leaves a lasting impact on economies – altering buyer behaviours & preferences, and necessitating changes in marketing and brand communication strategies. By investing in digital marketing, businesses can gradually be less apprehensive and fearful of the market situation – and be successful in understanding what their target audiences are looking for. Brand positioning and business activities can be modified accordingly. Recessionary trends need not necessarily be all doom-and-gloom – by being proactive and leveraging digital marketing opportunities, companies can still survive, thrive, and stay ahead of competitors.


Amit is a Digital nomad at Brandwizz. An avid learner who believes in the magic of Words and Music. Eternal Optimist. Book Lover. Cinephile. Creative Soul, Down to Earth human. Connect to Know more!!
Starting a New Project, or
Want to Collaborate with Us?
Starting a New Project, or Want to Collaborate with Us?
Starting a New Project, or Want to Collaborate with Us?